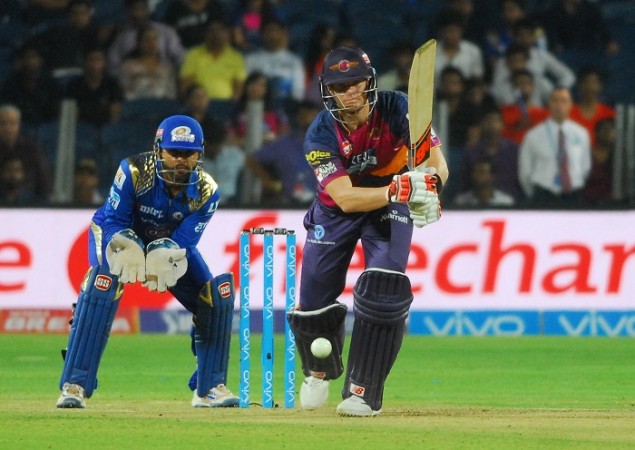 The Rising Pune Supergiants will be wondering what the injury Gods have against them. Having lost Kevin Pietersen and Faf Du Plessis for the rest of IPL 2016, MS Dhoni's team were handed a blow at the weekend in the shape of Mitchell Marsh's side strain. And the injury woes just do not seem to end there as the Australia skipper Steve Smith has now been ruled out of the rest of the IPL this season.
Smith joins Pietersen, Du Plessis and Marsh on the sidelines, after pulling out with a wrist injury. The right-hander will undergo treatment back in Australia in order to be ready to go for the tour of the Caribbean.
"Steve has been struggling with pain in his right wrist for the last week during his stint in the IPL," said Cricket Australia sports science and sports medicine manager Alex Kountouris told CA's official website.
"We have been working with his IPL franchise Pune to monitor this and unfortunately it has not resolved. As such, he will return home from India for further assessment and treatment ahead of the Qantas Tour of the West Indies.
"From the information we have so far, this doesn't appear to be a serious injury but we are keen to give him the time to recover and rehabilitate before heading to the West Indies at the end of May."
Smith has been one of RPS' better batsmen this season, scoring 270 runs in eight matches, which included a fabulous hundred on Friday against the Gujarat Lions. However, those runs have not been enough to put RPS in a strong position, as Dhoni's side currently lie sixth in the table with six losses in eight matches. Unless they manage to go on a major winning run, RPS don't look like finishing in the top four this season and with it qualifying for the playoffs.
Hoping to help them fashion a Mumbai Indians-like winning run will be Usman Khawaja, who was called up after injuries to Du Plessis and Pietersen. However, with Marsh and Smith also out of the tournament, RPS have three potential squad places to fill. Whether they choose to bring in backups for all three, remains to be seen.