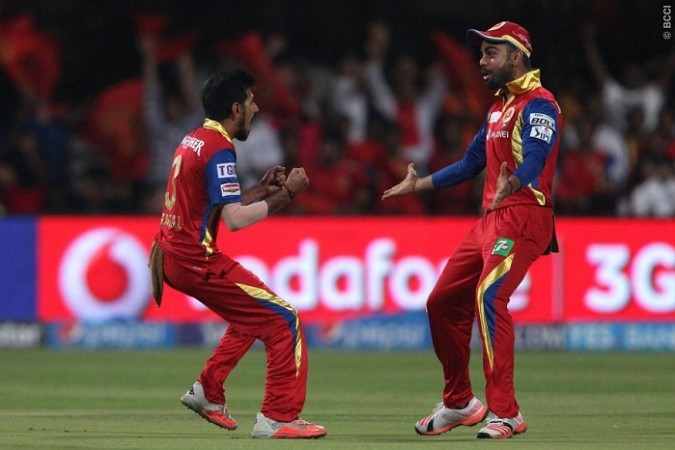 Yuzvendra Chahal credited his skipper Virat Kohli and his coach Daniel Vettori for his performance in Indian Premier League (IPL) 2015. He picked up three crucial wickets against Chennai Super Kings (CSK) on Wednesday, but ended up being on the losing side.
Chahal has been brave in flighting the ball in these Indian conditions. Especially, when he was bowling to the Chennai side, he picked up the wickets of Raina, Dhoni and McCullum. He did not let his coach (Vettori) down when he entrusted him with the new ball to curb the run rate.
"Vettori sir had told me beforehand that I will be bowling with the new ball. It was our plan to stifle McCullum with spin early on. I was just trying to bowl accurately with a few subtle variations. I happened to bowl a slower wrong one and it got me McCullum's wicket," Chahal told the official website of IPL.
Of all the wickets that he picked up on Wednesday, he seems to have enjoyed the wicket of Dhoni the most. "I enjoyed taking Dhoni bhai's wicket. To get a batsman like him in the slog overs is huge. We know what he is capable of doing in those last few overs," he said.
Even after he was hit three sixes in an over by Raina, he dared to flight the ball and picked up his wicket. He used the lessons from his coach and applied them on the spot and picked Raina's wicket right after the third six.
"Virat and Vettori sir have given me a lot of confidence in that regards. Vettori sir tells us not to think about the ball you've been hit for. Forget about it and concentrate on the next ball. That really helps in a T20 game. Virat always tells me not to worry about being hit for sixes. He backs me to bowl whatever I want to bowl and keep a big heart," added Chahal.
Royal Challengers Bangalore (RCB) have now lost three games on a trot and that too at their home ground, which used to be their fortress once. Up next, they will take on the mighty Rajasthan Royals at their backyard on Friday.