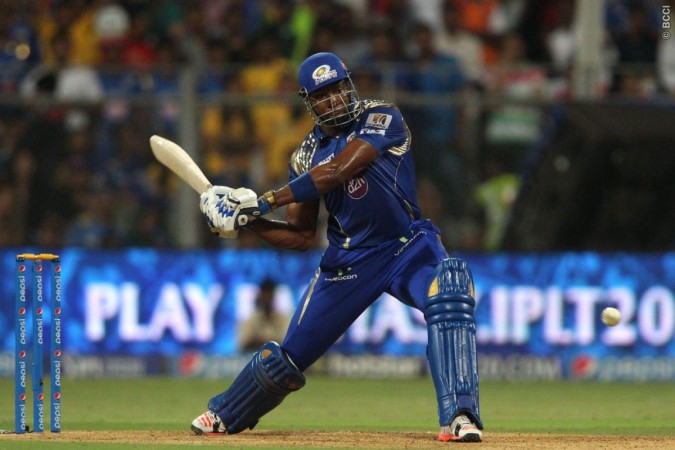 Kieron Pollard feels that Mumbai Indians (MI) played one of their most perfect games to outplay the mighty Chennai Super Kings (CSK) by 25 runs in the Qualifier 1 to cruise into the big Final of the Pepsi Indian Premier League (IPL) 2015.
Pollard was himself instrumental in powering MI to post a total of 187 runs in 20 overs. He went hammer and tongs and took almost all the CSK bowlers to the cleaners. He scored 41 runs from just 17 balls at an astonishing strike-rate 241.70. His innings included one four and five sixes.
"We played one of our most perfect games today, barring a couple of dropped catches which obviously needs improvement. Having said that, coming out and winning that and going directly into the final from where we were, I think, is a marvellous achievement for us as a team," Pollard told PTI.
"187 was a good total. On this ground it was par. We had a couple of runs to play with. We knew Chennai is a good team. They came here during the league stages and demolished us."
The West Indian all-rounder went on to laud Harbhajan Singh who turned the game in Mumbai Indians' favour. Harbhajan dismissed Suresh Raina and CSK skipper MS Dhoni in successive balls to put MI into the driver's seat.
"We wanted to start well, got a couple of wickets as well. Bhaji, of course, did not start well in the first couple of overs, but after that third over he changed the game for us. Getting those two wickets was absolutely masterly. Raina and Dhoni, they can change the game in a couple of balls," Pollard added.
Lasith Malinga and Vinay Kumar were the other two bowlers who picked up wickets at crucial moments in the match and gave MI the upper hand.
"It was a total team effort. He bowled well, Vinay Kumar bowled well, Malinga bowled well.Mitchell McClenaghan went around the park but he got a vital wicket of Ravindra Jadeja in the end. Everything adds up in the end.
"What's good for us is we won as a team openers set the foundation for us with a 90-run stand. They have been doing that in the last couple of games. Yes, we got a bit of a stutter but this is what Twenty20 cricket is all about. It's all about playing as a team and finishing it off as a team," explained Pollard.
He also spoke about MI's dramatic turnaround in IPL 2015 and said that they played as a cohesive unit and took one match at a time to make this possible. Mumbai Indians' incredible run of form helped them reach the final of the IPL 2015 as they now have won eight out of their last nine matches.
"We looked at it as a boxing match. From the start of this month we knew we had to win one round after one round after one round. Getting that opportunity to finish second puts us in a position where we basically had to win two games to reach the finals. We spoke about the need to continue to be ruthless.
"It's good for us, but the most disappointing part is after first four games a lot of people had written us off. It was also a blessing in disguise for us. Ricky Ponting has emphasised, we have not done much differently. All we had done is come and play competitive cricket.
"Management, players staff everyone decided let's give it our shot and here we are into the finals. Congratulations to the team. We have played good cricket in last month or so," concluded Pollard.