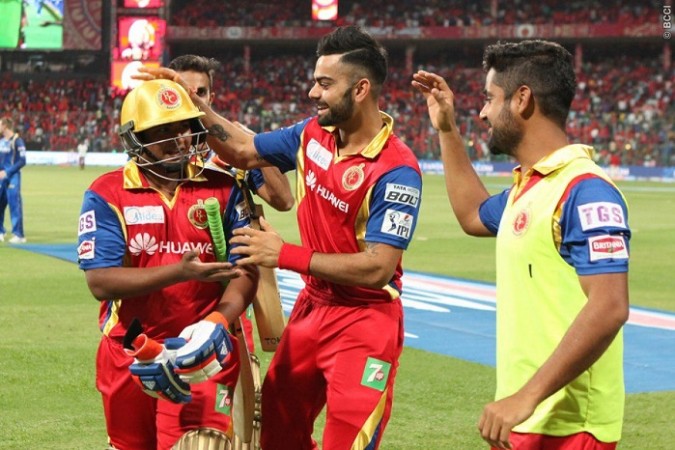 Royal Challengers Bangalore (RCB) youngster Sarfaraz Khan, who shot to fame during the Pepsi Indian Premier League (IPL) 2015, has said that (encouraging) words from big guns such as Virat Kohli, Ab de Villiers and Chris Gayle helped him a lot.
He also said that playing in the IPL alongside these veterans was a great learning experience. It was a privilege to bat after Kohli, Ab and Gayle, and their tips were helpful, he said.
"Batting at No. 6 was an honour for me. Usually senior and experienced players bat at that position and carry heavy pressure. I am lucky to get a chance to bat at that position. It gave me extreme confidence but my feet are on the ground, and will remain there," Sarfaraz Khan told reporters.
His innings of 45 runs from just 21 balls during the IPL 2015 against the Rajasthan Royals caught the attention of spectators. All the big guns of RCB had returned to the pavilion but he kept his calm and propelled his team to post a massive total of 200 runs at the end of 20 overs. Unfortunately, the match was called off due to rain and both the sides had to split the points.
"Gayle, Kohli and de Villiers gave me tips to improve my batting. Very soon I will be bringing them into practice.
"Kohli especially helped me a lot. He appeared to me more of a friend than mentor or captain," Sarfaraz said.
Sarfaraz is working hard post the IPL 2015 and is hopeful of playing for his country someday. He also said that his stint during the IPL 2015 has given him lot of confidence.
"It is hard to say how far that goal is but the way I am working, I am confident that I will get to play for the country in future," Sarfaraz said.
The youngster from Mumbai also said that his father's (Naushad) guidance helped him play effortless cricket. Naushad Khan has trained players such as Iqbal Abdulla and Kamran Khan, who have done well in IPL before. Naushad also said that his entire family is supporting the kid so that he can achieve his dreams and play for the country soon.
"I have given Sarfaraz to cricket. Sarfaraz's mother gets up at half past four in the morning and cooks food for us. We leave house at five o'clock and start practice from seven o'clock. We come back home at 8 PM and after having dinner we fall asleep at nine o'clock. This routine has continued for many years," Naushad told reporters.