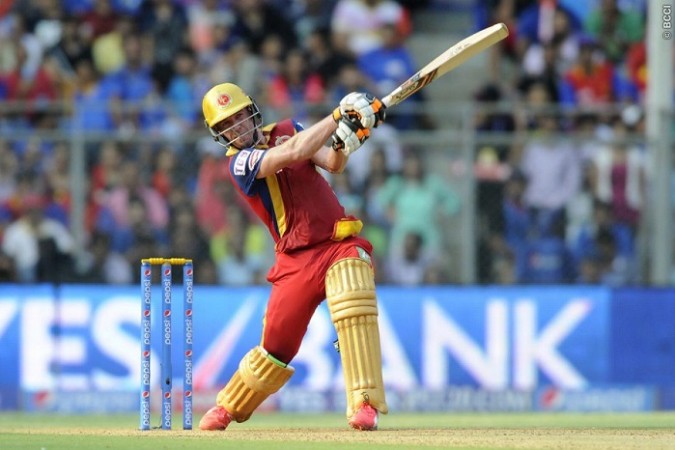 Royal Challengers Bangalore (RCB) took on Mumbai Indians (MI) in match number 46 of the Pepsi Indian Premier League (IPL) at the Wankhede Stadium in Mumbai on Sunday. AB de Villiers tore apart the Mumbai Indians bowling attack and second his second century in the IPL. Twitter went delirious after de Villiers's bltizkreig.
RCB did not have a good start to their innings as they lost Chris Gayle early and the job was left on the responsible shoulders of skipper Virat Kohli and de Villiers. They were 46 for 1 after seven overs at one stage. Both the batsmen kept their cool and shifted the momentum and later changed the gears for good.
De Villiers, on his way to 133 runs off 59 balls, smashed 19 boundaries and four sixes. He also bulit a partnership with Kohli which broke all the T20 records. Their partnership of 215 runs is now the highest for any wicket in T20 cricket.
The cricketing fraternity and the fans watching de Villiers going hammer and tongs alongside Kohli expressed their delight and joy on Twitter.
Sunrisers Hyderabad skipper David Warner tweeted: "What an innings by @ABdeVilliers17 as I said before best batter in world cricket!!."
He was followed by former Australian batsman Damien Martyn, who too got his hands on Twitter: "A serious display of batting by the champion @ABdeVilliers17 @RCBTweets @IPL #IPL2015."
Chennai Super Kings (CSK) all-rounder Irfan Pathan expressed his joy of watching de Villiers going berserk: "I'm writing an official complain as a bowler against @ABdeVilliers17. All the bowers please join me @IPL #legend."
Sri Lankan legendary batsman Mahela Jayawardene tweeted: "How good is @ABdeVilliers17 . This is class!."
Australian fast bowler Dirk Nannes tweeted: "What an absolute pleasure it is to watch @ABdeVilliers17 and @ImViratkohli in full flow. Does it get any better?"
RCB owner Siddharth Mallya was happy as de Villiers got the team's first individual century. He tweeted saying: "Been a long time coming, but @ABdeVilliers17 finally has an #RCB 100!!! WHAT AN INNINGS!!!!!!!! #legend #MIvRCB #IPL."
TV presenter Gaurav Kapoor also tweeted: "I think @ABdeVilliers17 has some deep rooted issues that are unaddressed. Because nothing else explains this attention seeking behaviour."