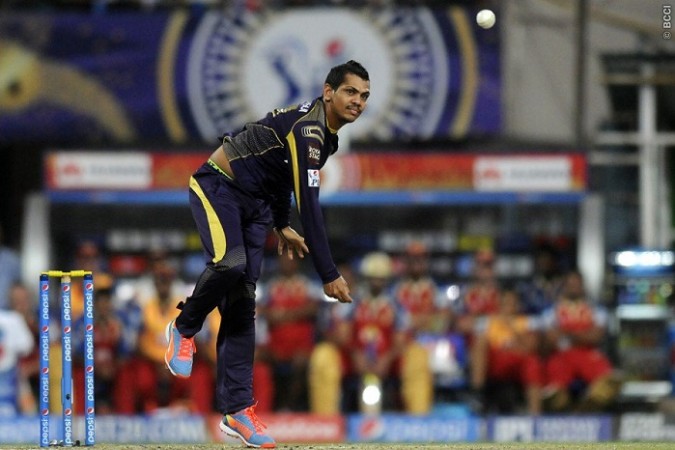 Kolkata Knight Riders (KKR) mystery spinner Sunil Narine has been banned from boeling off-spinners. Narine was reported for suspect bowling action yet again on April 22 after KKR's match against Sunrisers Hyderabad (SRH).
After he was reported, Narine had to visit Sri Ramachandra Arthroscopy and Sports Sciences Centre (SRASSC) in Chennai for a biomechanical analysis of his bowling action. The Board of Control for Cricket in India (BCCI) Suspect Bowling Action Committee reviewed the evidences from the match footage and the analysis was put forward by SRASSC, read the BCCI media release.
The rules of Indian Premier League (IPL) Suspected Illegal Bowling Action Policy states that a bowler cannot breach Law 24. According to the analyisis provided by SRASSC, Narine's action breached Law 24.2 and therefore, he is banned from bowling off-spinners in any match organized by BCCI and in the IPL, with immediate effect. Surprisingly, he is allowed to bowl his knuckle ball and the quicker, straight deliveries.
There is more to the media release issued by BCCI. It stated that if Narine bowls an off-spinner during any match in the IPL, the on-field umpires would call it a 'No-ball' and he will be reported further. According to clause 3.4 of the IPL Suspected Illegal Bowling Action Policy, the player will be suspended from bowling in any BCCI-organised match.
BCCI Honorary Secreatry Anurag Thakur also mentioned in the media release that Narine may undergo a bowling rehabiliation and make sure that his action is corrected, after which he can request the Committee for further assessment.
Narine was banned during Champions League Twenty20, 2014 just ahead of the tournament's final match against Chennai Super Kings (CSK) and KKR suffered a loss as a consequence. Post the tournament, Narine went on to correct his action and had to undergo tests conducted by the International Cricket Council (ICC). He also missed the recently-concluded ICC World Cup for the same reason. Ahead of the IPL, BCCI requested Narine to undergo yet another test at the SRASSC and cleared him to play in the tournament. Even after undergoing so many tests, he is now being banned from bowling off-spinners that the batsmen around the world dread to face.