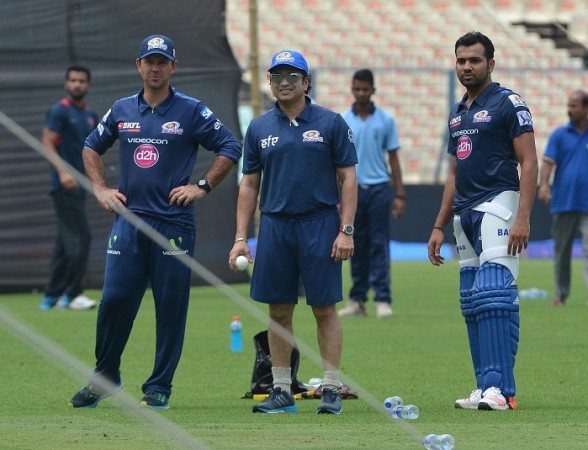 One of the major highlights of the practice session for the Mumbai Indians at the Eden Gardens on Tuesday was the presence of Sachin Tendulkar, who was his usual "cricket brain working overtime" self as he gave words of wisdom and more to the MI players.
Tendulkar retired from the sport more than a year ago, while he last played in the IPL two seasons back, but he is still very much a part of the Mumbai Indians franchise as the Team Icon.
Sachin was seen talking with Rohit Sharma for quite a while in the middle at the Eden Gardens, and the current Mumbai Indians captain was all praise for the impact that the Indian legend has on his team.
"We were discussing the strategy for the game [against KKR] and Sachin was sharing his thoughts on the same," said Rohit, who also has the privilege of picking the brains of Ricky Ponting and Anil Kumble to name just a couple more. "He has been an integral part of the Mumbai Indians family ever since he started playing for MI and he continues to be.
"Whenever we need him he is always there for us."
Mumbai Indians will need all the expertise available to them if they are to top the Kolkata Knight Riders in the fortress that is Eden Gardens. No team is quite as formidable at home as KKR, and Rohit is aware of the challenge that awaits MI come Wednesday.
"Playing at Eden Gardens is always a challenge," added Rohit. "But I guess every team will do what is best for their team and try to make use of the home advantage which is what KKR are doing.
"I see no reason why a team shouldn't use home advantage. KKR are doing the same. They play according to their strengths and prepare wickets according to their strengths which is fair.
"When you are away from home, it is important to understand that all odds will be against you. Every time we have walked out at Eden Gardens, we have always felt confident. We have done well and played some good cricket here."
Rohit has indeed enjoyed some wonderful memories at the iconic Eden Gardens, chief of them being that unbelievable 264 against Sri Lanka in an ODI last year. If the Mumbai Indians skipper can produce some of that magic again, his team will stand a pretty good chance of opening IPL 2015 with a victory.
"You don't break records every day," said Rohit. "I feel that innings I played here will definitely be in my mind. Going into the game that confidence will be there.
"I know the conditions well and have an idea as to what to expect from the wicket. It has been a long time since that knock and I would like to stay in the present which is very important for me and my team."