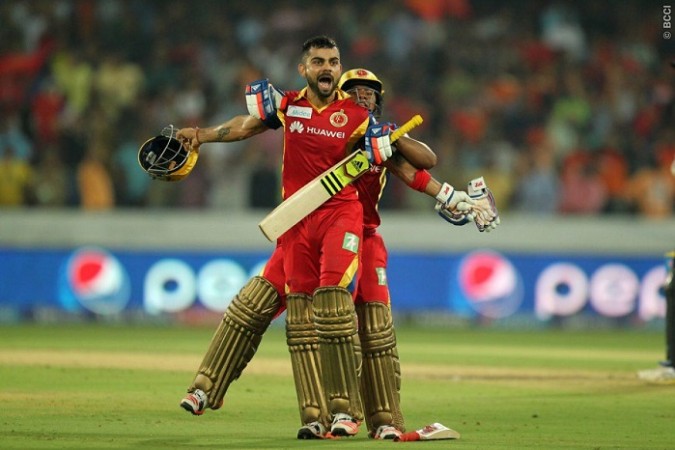 Royal Challengers Bangalore (RCB) skipper Virat Kohli won the game almost single-handedly against Sunrisers Hyderabad (SRH) in Hyderabad on Friday. Kohli said that he was happy to win it for his side that earned them two crucial points.
This edition of the Pepsi Indian Premier League (IPL) has witnessed some nail-biting matches, but the one that RCB and SRH played on Friday was a cliff-hanger in its truest sense.
In a rain-affected match, RCB had to chase down 81 runs from six overs, after David Warner and Moises Henriques went hammer and tongs in the first innings. Chris Gayle and Kohli gave RCB just the kind of start they wanted.
They lost wickets at intervals but Kohli kept his calm and by the end of five overs, RCB required 13 runs to win from the last over. Kohli hit two fours and a six to seal it for RCB. Bhuvneshwar Kumar was bowling the last over and could not stop Kohli from getting those runs. The moment when he hit the winning shot was an epic one, as he skied the ball and David Warner was underneath the ball. He caught the ball but went on to touch the rope with his feet and that powered RCB to inch closer to the Playoffs.
"I thought I got a lot of bat on the ball. To be honest I thought I hit it for six instantly but then I saw David Warner signalling to long on that it is an easy catch. I knew that he was misjudging that because it was going further than he thought. He sort of went behind with the momentum.
When I saw the compression in the foam, I knew instantly that the moment of joy had finally arrived. I feel for him; he is one of the best fielders in the world and you don't want to be a part of those kind of situations. Mistakes happen with anyone and there was an error of judgment there which is the difference between winning and losing a game," said Kohli in an interview to the official website of the IPL.
After Gayle was out for 35 and Ab de Villiers went back to the dugout for a golden duck, the responsibiltiy was on the able shoulders of the RCB skipper.
"When Chris Gayle got out he told me, 'Virat please win the game for us'. I said to him I will get us across the line. To be able to do that now feels very good. I am glad I could do it for my teammates," Kohli said.
RCB have one more game left that will be playing against the Delhi Dardevils on Sunday at the former's backyard. They are almost through to the playoffs mathematically because of their positive net run rate, but you never know as this game of cricket is a funny one and anything can happen.
"We are looking to win our final game at home and play good cricket again and get across the line and make it to the top two. It is a great opportunity for us. We are glad to be in this position right now but complacency is not the word for RCB this season," Kohli said.