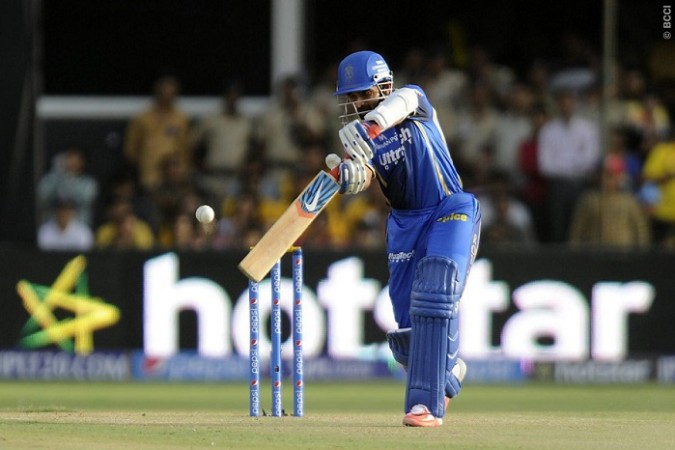 Rajasthan Royals (RR) opening batsman Ajinkya Rahane has been a prolific scorer in Pepsi Indian Premier League (IPL) 2015. The orange cap holder says he likes to keep it simple and stay calm, and score runs for his side at the top of the order.
He believes that a calibrated approach in every match holds the key to success. One should not try too many things at once, as it may result in loss of concentration.
Rahane is known for playing measured and intelligent cricket, and he loves to bat throughout the innings. One thing that is noteable about him is that if he fails to score a boundary, he would rotate the strike and keep the scoreboard ticking.
"Just keep it simple, and stay grounded because it is small things that take you forward. I start from scratch in each innings and play as the situation demands. When I am in good form my intent is to score as big as I can for the team," said Rahane, during a chat with the official website of IPL.
"I know what my strengths are and I try and play to my strengths. The bowler is also going to commit a mistake at some point and if you are ready for that moment, then you can capitalise (on that).
"I haven't changed anything much. There are different field positions and settings and I try to play accordingly. But I have tried to keep things as simple as possible," added Rahane.
In this season, Rahane has batted well in tandem with Shane Watson at the top of the order. Previously, he was opening with Sanju Samson but ever since Watson came back to the playing XI, he is enjoying his batting, besides being the proud holder of the orange cap in this edition of the IPL at this stage.
"I think we complement each other very well and we are enjoying each other's batting. When he is playing the big shots my role is to take a single and give him the strike. Similarly if I am scoring then he would give me the strike. We focus on building a partnership and we know that both of us are batting in a good rhythm," Rahane exclaimed.