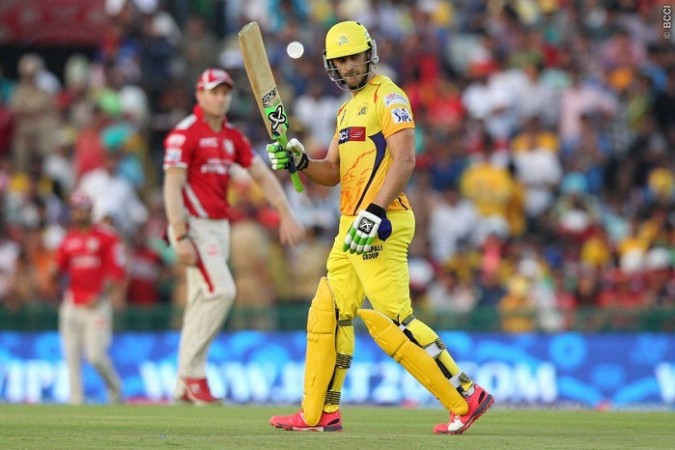 Chennai Super Kings (CSK) middle-order batsman Faf du Plessis has said that playing under skipper MS Dhoni has helped him evolve as a cricketer. He is more of a floater in the CSK squad and can bat any position in the Pepsi Indian Premier League (IPL). Faf proved that yet again in the game against Kings XI Punjab (KXIP) on Saturday.
CSK lost their openers early in the form of Brendon McCullum and Michael Hussey. Although they were not chasing a big total, Dhoni decided to push Faf at number three and he played a gritty and sensible innings of 55 runs from 41 balls that included five boundaries and a six.
"It is good, we have got a lot of leaders in our team – myself, Brendon McCullum, Dwayne Bravo and even Suresh Raina (has captained India).
"It was nice for me in the beginning when I was still a young captain to play under MS and see what his thinking is, how calm he is. Now it's nice after we have played a lot together when I come up with an idea and share it with him and he too talks to me.
"There is a lot for me to learn from him. He is a very successful captain and he has done some great things in his career, so one can only learn from that," said du Plessis in an interview to the official website of the IPL.
He usually bats in the middle order and Raina comes in at number three. But Dhoni's experiments with the batting order clicks most of the time because he tries to get the best out of every player that has played under him.
"I think floater is a good way to put it. Before today I was batting more in the middle-order trying to keep the innings together, before the power-hitters that we have got, come in to bat. My role is not to go too aggressively and let the other guys make the play. But with my role changing today, coming in to bat at No. 3, I had a little bit more time in the powerplay," said du Plessis.
CSK are now all set to finish either number one or two in the points tally and thus will have two chances to make it to the big final. But looking at their confidence they would look to seal a spot in the final by winning the first qualifier.
"We were under a lot of pressure after the early losses and we managed to get through that. We try to improve with every game and now for us, it's hoping that after all those games that we have played, we can play our two best matches towards the end of the tournament," Plessis said.