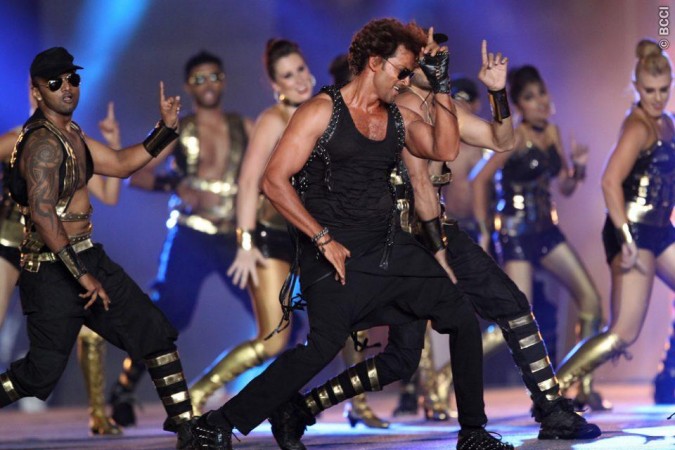 The opening ceremony of the IPL was expected to be a grand affair with Bollywood stars such as Hrithik Roshan, Saif Ali Khan, Farhan Akhtar, Shahid Kapoor and Anuskha Sharma set to enthral the audience at the Salt Lake stadium in Kolkata.
But, the event turned out to be dull and boring, which was not expected especially with the hype that had already been created with the presence of these stars .
The fans were made to wait for long while due to heavy showers. Rain was not the only low of the so called 'glitterati affair' because when the ceremony kick-started, there was nothing to write home about.
The host of the IPL 2015 Opening Ceremony, Saif Ali Khan, who has been the MC for a number of Bollywood events, did not look comfortable hosting for the opening night of one of the most watched sporting events in the world.
The 'Chhote Nawab' messed it up during the night as one did not need a rocket scientist to explain that the actor was receiving feeds on the mic, but there were instances when Saif looked clueless and did not know what to say.
Later on, when the captains were called as well, Mumbai Indians skipper, Rohit Sharma had no idea as to where he should go and stand. He also stepped in his team's emblem, which had been fitted with lights.
Though, Bollywood actors did give their best during the IPL opening ceremony, apart from Hrithik Roshan's dancing moves, the event was a forgettable one.
But to be fair to these artists, rain might have hampered their preparation before the mega event as well.
There were huge hopes pinned in these stars, but they were rather disappointing overall and Twitterati did not hide their feeling, referring to the Opening Ceremony as the worst ever.
Here are some Tweets from the opening ceremony :
Umesh Lakhmani posted – "So we witnessed the most boring/disorganized IPL Opening ceremony ever. Do you have any excuses to make? @IPL"
Vandana posted - Knew this ipl OPENING would be boring.. So avoided... But #Hritik dances will be watched SOOON! #IPLOpeningCeremony
NEHA RHORA tweeted – "by far the worst and the most boring IPL opening ceremony AND THIS WAS EXPECTED BECAUSE ITS SHAHRUKH WHO LITES IT UP EVERY TIME"
NaNa PartyKar posted - "Even Sajid Khan's films are less boring as compared to today's #IPL opening ceremony!"
Aditya Vishnu tweet read – "This year's #IPLOpeningCeremony was the most boring opening ceremony in the history of #IPL"
Dhawal Shah tweeted – "The 2015 IPL Opening Ceremony is the most drugding & boring opening ceremony I have ever seen. Why are they even conducting this crap?"
Dhruva posted – "This has to be probably the boring and Dull #IPL opening ceremony ever... Saif has killed it with his Boring Appearance... #IPL8"
Ankit pande tweet read – "Hopefully the IPL won't be as boring as it's opening ceremony @IPL"
Joel Jadhav tweeted – "@BCCI @IPL Hatsoff for such a boring opening ceremony..."
Anshul Verma posted – "Ive never seen so boring opening ceremony anywhere so badly managed Very very poor hosting too @Pepsi_IPL_2015"