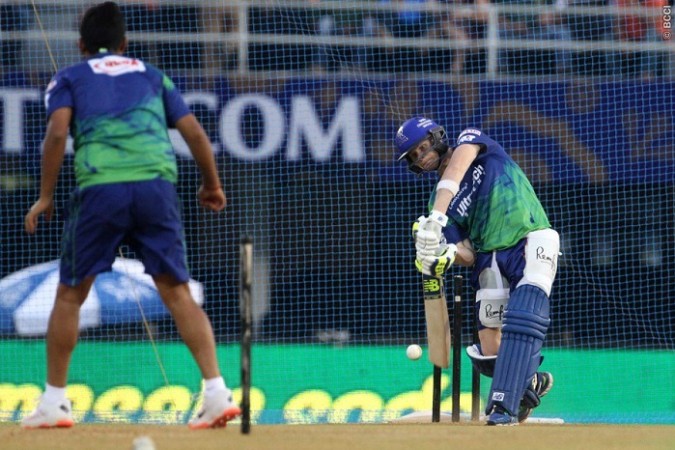 Australia and Rajasthan Royals (RR) star Steve Smith believes Virat Kohli and Ajinkya Rahane are terrific batsmen.
Smith saw first hand these two India internationals make their mark against Australia and also during the recently concluded ICC Cricket World Cup 2015.
Playing in the same team in the IPL, Smith is clearly a big fan of Rahane.
"We saw in the summer back home in Australia, how he played our bowlers in our conditions as well as anyone, and then throughout the World Cup as well, and again we're seeing in the PL, he's the Orange Cap holder at the moment. He's been good at the top-order with Shane [Watson]," said Smith of his Rajasthan Royals teammate in an interview to The Times of India.
The superstar batsman also had kind words to say about Kohli.
"Virat is a terrific player. He's been one since coming onto the scene. He's someone that I really like watching. He had a lot of success as well throughout the summer back home," said Smith.
He also went on to praise RR mentor Rahul Dravid, saying every single player in the IPL franchise has learned a lot from the Indian legend.
"He's as experienced as you get. He's a great role model for everyone here. A lot of the overseas players have been able to pick his brain and learn about different things like how to bat in Indian conditions," added Smith.
Smith himself had a wonderful summer with the bat. With the kind of fom he is in right now, one can definitely expect great things from him. While he has not been at his best in IPL 2015, Smith led the Royals pretty well in the absence of Shane Watson, guiding them to four victories on the trot.
"It's been good," added Smith when asked about Royals' season so far. "We started well, winning our first five games, and then had a bit of a rough patch. The washouts slowed down our momentum a bit, and we won the last game.
"The most important thing is that we should be playing good cricket at the back-end of the event."