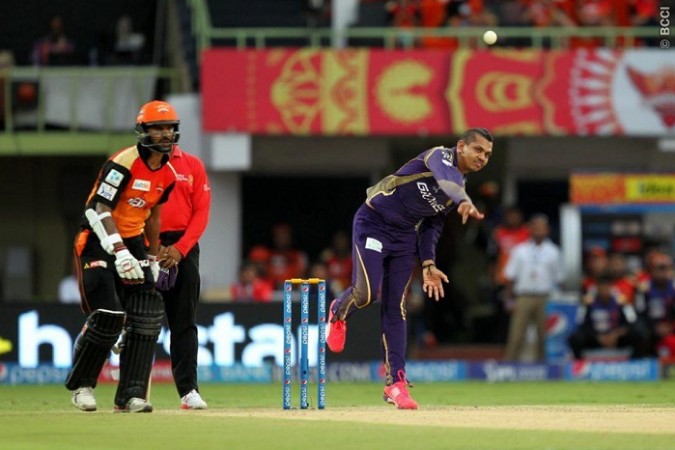 Sunil Narine just cannot shake that shaky action off, with the Kolkata Knight Riders spinner reported for a suspect action yet again, following his bowling performance against the Sunrisers Hyderabad in IPL 2015.
Narine was reported a couple of times for a suspect action in the Champions League T20 last season, which eventually led to the West Indian remodelling his action.
Deeming the action not ready enough for international matches, despite a positive nod from the ICC, Narine sat out of the ICC Cricket World Cup 2015, but came with a point to prove in IPL 2015.
Initially the action seemed markedly different, with that arm going over a lot better, but there was little doubt that the KKR spinner was not quite as effective, in terms of wicket-taking ability.
Apparently, the officials in the match between SRH and KKR, which the former won, saw a bit of a problem in Narine's remodelled action as well, and duly reported it.
"A suspected illegal bowling action report has been filed by the match officials on certain deliveries bowled by Mr Sunil Narine of Kolkata Knight Riders during the Pepsi IPL 2015 match between Sunrisers Hyderabad and Kolkata Knight Riders played on the 22nd of April, 2015 in Visakhapatnam," BCCI secretary Anurag Thakur said in a statement on IPL's official website.
"As per the provisions of the IPL Suspected Illegal Bowling Action Policy, Mr Narine will still be eligible to bowl in forthcoming Pepsi IPL matches and may request a biomechanical analysis of the deliveries in question at the ICC and BCCI accredited testing facility, the Sri Ramachandra Arthroscopy and Sports Science Centre (SRASSC) in Chennai."
Narine underwent tests at the University of Loughborough, an ICC centre, to get his action passed, but the bowler was also asked by the BCCI to undergo a further test in Chennai before the start of the IPL.
Having passed that as well, it looked like the action problems might finally be behind him, only for it to come back to haunt him again.
KKR's next match is against the Rajasthan Royals at the Eden Gardens on Sunday, and as the statement said, Narine will be eligible to bowl.