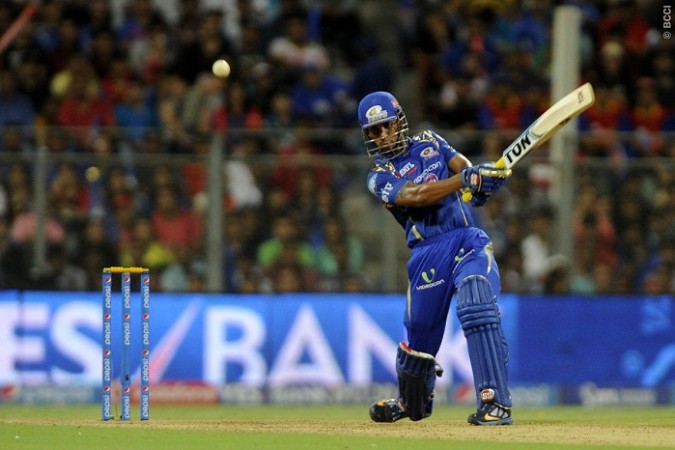 Mumbai Indians opener Lendl Simmons praised the star-studded Pepsi Indian Premier League (IPL) as the best Twenty20 (T20) tournament in the world. He said the IPL is the only tournament in which a player can prove his worth.
Simmons has been a consistent performer in this format of the game. His records in the last year's IPL and this year speak well off him. In IPL 2014 he scored 394 runs in eight games and this year he has scored 345 runs at an average of 43.12. There are still some more games to be played.
"IPL is the biggest and best Twenty20 tournament. And there's no better way out than proving yourself and proving one's worth at the IPL," said Simmons in an interview to the IANS.
Simmons has also been an exceptional fielder for Mumbai Indians this season. He took a blinder to dismiss Yuvraj Singh in their match against Delhi Daredevils earlier this tournament.
"It's about getting the ball into the hands properly and holding onto it. You drop some easy ones and catch some hard ones, that's how the game goes," said Simmons.
He has already taken some terrific catches to turn the course of the games. Simmons and Parthiv Patel seem to compliment each other well and have given MI just the kind of start they needed.
"It's just about getting good start to my innings. I do what it is required off me. I want to get my team off to a good start and in a good position. So far things are going good for me and I hope to deliver for Mumbai back again in the upcoming matches," Simmons said.
He also said that he learnt a lot watching Sachin Tendulkar and Rahul Dravid batting in these Indian conditions and he tries to bring in that knowledge into his game.
"I have watched Tendulkar and Dravid play in the previous IPL. I have learned a lot and try to emulate their skills at the start of an innings. Like when you play in the first six overs it's about hitting the ball in the gaps and get valuable runs," Simmons added.