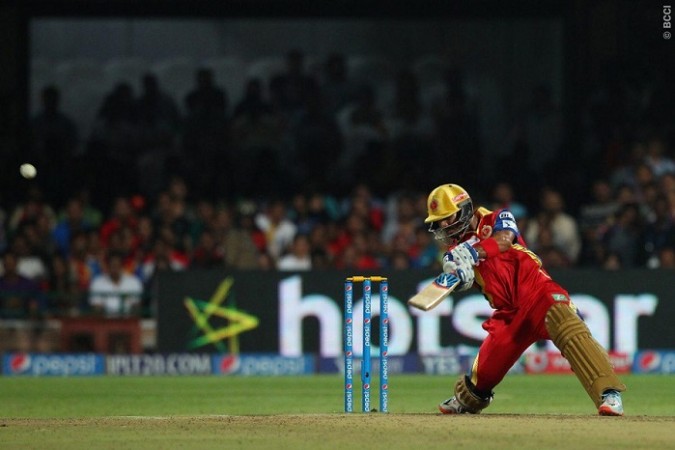 Royal Challengers Bangalore (RCB) beat Kolkata Knight Riders (KKR) by seven wickets in a thriller of a match that was curtailed due to rain. RCB had to chase down 112 runs in 10 overs and that was not an easy task against the defending champions, KKR. All of RCB's big guns Chris Gayle, Virat Kohli and Ab de Villiers were back in the dug-out, but it was Mandeep Singh's day to steal the limelight and guided his side to a victory.
The innings that Mandeep played on Saturday proved that RCB do not rely heavily on the top three superstars and that there are other players who can take up the responsibility and stand up when situation demands. In their last match against Rajasthan Royals (RR), it was young Sarfaraz Khan who stole the show.
Mandeep kept his calm and batted extremely well alongside his skipper, Virat Kohli. He also said that lessons and words from his skipper and AB de Villiers helped him a lot. The idea was to keep things simple and stick to the basics instead of trying too many things at one go, said Mandeep.
"With the total we were chasing, I knew I had to go from first ball. But I still decided to just play to the merit of the ball. I told myself that there will be opportunities to get boundaries. I just waited and it came off really nicely," told Mandeep in an interview to the official website of the IPL.
"I made sure that I keep things simple. Sometimes, we tend to complicate things in our head.
"All the accomplished batsmen I have spoken to tell me one thing – keep the game simple in your head. Just react to the ball. I did that today," said Mandeep.
"AB and Virat have helped me a lot. In the previous game as well AB really built my confidence. He told me, 'you have enough time to play the fast bowlers, so don't hurry. Take your time and you will be alright'. That's what I did today. I remained calm and waited for the ball to come," he added.