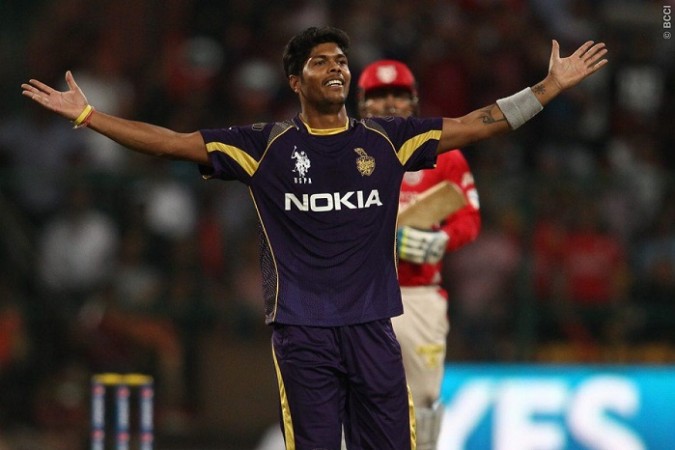 Kolkata Knight Riders speedster Umesh Yadav is relishing bowling with Morne Morkel in the Pepsi Indian Premier League (IPL) 2015. Both the pacers proved to be effective against a dangerous batting line-up of Kings XI Punjab (KXIP) and they managed to keep the run-rate down.
"We form a good combination because my job is to swing the ball and get the batsman out on the length ball, by getting him to drive. Morne has height and can get the bounce, so he tries bowling back of a length and bowling at the batsman's body," said Yadav in an interview to the official website of the IPL.
"I have pace but also swing. So I try bowl to the batsman in one area, make it difficult for him and to get him play every ball so I can have a chance of getting him out caught behind or trap him LBW.
"Morne Morkel has pace and hits the ball at a good length. But for most batsmen, his ball rises to the chest level, so it is not easy to hit him from there and that gets him wickets. Our job is to get wickets upfront and that is what we have done," added Yadav.
Yadav was with India during their Australia's tour and was also one their better bowlers. He worked on his line and length ever since he came back from the recently concluded World Cup. Yadav feels one should not bowl short pitch deliveries in these Indian pitches if one does not have a good speed or else it will bounce normally and then it becomes easier for the batsmen to hit the ball.
Yadav was happy that he could provide those important breakthroughs for KKR. He also feels that bowling to someone like Glenn Maxwell is not easy at all. "It is difficult to bowl to him because when he comes to bat he just moves too much from the wicket, sometimes to the off-side or sometimes to the leg-side. So it is difficult to bowl to him. But I knew and I was confident that when he moves I will not follow him but I will just I keep at the wicket only," exclaimed Yadav.