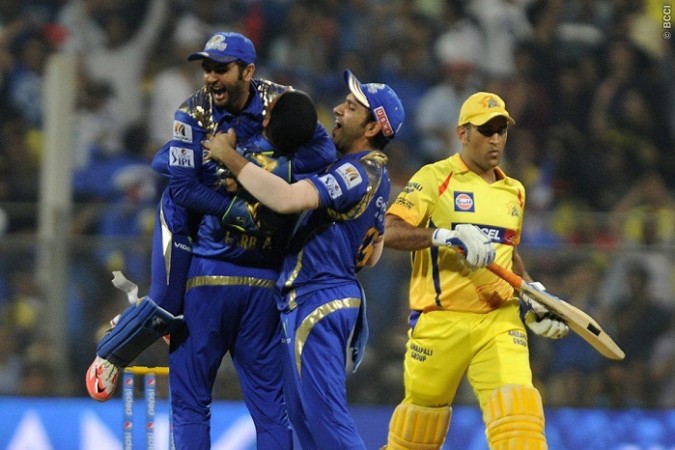 It's been long, it's been captivating, exhilarating (and a few more similar adjectives), sometimes underwhelming (OK, OK boring), and after those range of emotions and a ridiculous 59 matches in such a short space of time, it all comes down to the 60th and most important game – the IPL 2015 final between Mumbai Indians and Chennai Super Kings at India's most famous ground the Eden Gardens in Kolkata.
This will be CSK's sixth IPL final and their attempt at a third title, while MI have been in the final twice before and won it once. Both of those MI finals were against CSK, with the latter winning in 2010 and the former turning triumphant in 2013.
Of the three matches played between the two giants in IPL 2015, MI have won two of the three, with the latest one, of course, coming in Qualifier 1. That match was a no-contest really, with the Mumbai Indians putting a big total on the board, and then never letting CSK come close enough to even think about scaling the target.
A similar game in Kolkata, and MI will become only the third team, after CSK and KKR, to have won two titles in the IPL, something they are, no doubt, desperate to achieve.
MI certainly have the capabilities to do it, because this CSK side, without the dynamism and explosiveness (again add more apt adjectives as desired) of Brendon McCullum, just do not looks the same batting side.
Put CSK under pressure, and they do seem to struggle with the lack of form of Dwayne Smith also hurting them a fair bit. Of course, Michael Hussey, McCullum's replacement at the top of the order, showed his immense class in Qualifier 2 against RCB on Friday, but that quick-fire "CSK are off to a blazing start here folks" (read it as Ravi Shastri commentating) impetus needs to come from Smith if they are to worry MI.
Confidence will be sky high in the Mumbai Indians camp, having won eight of their last nine matches, and they look like a seriously difficult team to beat, what with their openers – Parthiv Patel and Lendl Simmons – giving them good starts, and the middle order (read Kieron Pollard) then doing the final overs tonking.
The bowling has also been quite impressive, with Mitchell McClenaghan and Lasith Malinga leading from the front in the pace department, while Harbhajan Singh has rolled back the years with some marquee performances, chief of them that two-wicket burst to dismiss Suresh Raina and MS Dhoni off consecutive deliveries in Qualifier 1.
If there is any team capable of stopping the MI juggernaut, however, it is the Super Kings, and having picked up a laboured win over another red-hot (in more ways than one) team in RCB, the IPL's most consistent side by a country mile will be confident of becoming the first team in the tournament's history to lift three titles.
The fact that they have lost three of their five IPL finals, however, suggests even CSK struggle to cope with big-game pressure at times, and, as it always does, the team that handles that pressure better will be the team jumping around on the podium and planting plenty of kisses on that little-too-gold cup.
IPL 2015 Final Schedule: 24 May: Mumbai Indians vs Chennai Super Kings (8 pm IST, 3.30 pm BST, 10.30 am ET) at Eden Gardens, Kolkata.