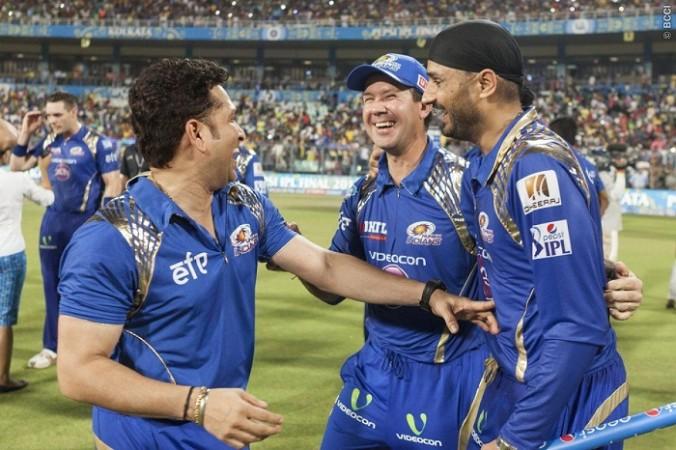 Mumbai Indians (MI) chief mentor and former Indian cricketing legend Sachin Tendulkar has said that MI skipper Rohit Sharma is a far better captain now. Tendulkar said this after MI defeated the Chennai Super Kings (CSK) in the final of the Pepsi Indian Premier League (IPL) 2015 by 41 runs at the Eden Gardens in Kolkata on Sunday.
The Mumbai Indians team have played some sublime cricket to showcase a dramatic turnaround after an awful start to the tournament when they had lost four matches in a row. Ever since then, Mumbai Indians won nine out of their last 10 matches to be coronated as the champions of the IPL 2015.
Tendulkar heaped praise on Sharma as he laid the men in blue to yet another IPL trophy. Mumbai Indians have now won two IPL titles in three years and that too they have played the same opponent (CSK) in the finals and at the same venue.
"If you compare him today with what he was when he started out as MI's captain, he is a far better captain today. He is much more confident now. He has gone through a lot of ups and downs as MI's captain and has faced a lot of challenges. These challenges only make you a better cricketer and a tougher person," Tendulkar told official website of the IPL.
"I think his execution has been particularly good this season. Whatever we planned in the meetings and dressing room, he has been able to execute them very well. You can tell a lot about the captain from the feedback the bowlers give you.
"The bowlers bowl in the areas and execute the plans that the captain asks them to. We can plan many things behind closed doors but it is up to the captain, the bowlers and the fielders to bring it all together. Rohit has done that well," added the Indian batting legend.
Tendulkar was happy with the way Mumbai Indians came back into the race and also praised every individual effort. Sachin mentioned that without the team effort and belief this success would have remained a far-fetched idea.
"We had a difficult start, really tough one. But those are the testing moments. That's when the team stuck together and we worked hard. This victory is not a coincidence; it is the reflection of all the hard work that we have put in. All of us truly believed that we could change things around. It is not how you start but how you finish that matters," said Tendulkar on Mumbai Indians's IPL 2015 journey.
Tendulkar also praised the efforts of head coach Ricky Ponting and spoke about his positive intent that pumped the boys up and they ended up playing every single game as if it was the final.
"When we played against him, he always came across as a serious, fearless competitor who never wanted to give up. The same applied here. At no stage did he feel that we are out of the tournament. We need positive people with good experience around, and Ricky doesn't lack in any of those departments," concluded Tendulkar.