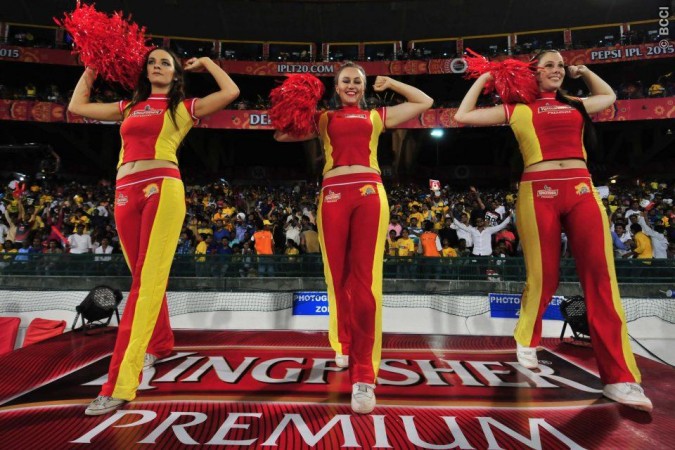 Police officials raided a hotel where IPL cheerleaders, hired by Chennai Super Kings (CSK) were residing on Tuesday. The police walked into their rooms and even questioned them for around an hour.
Such behaviour by the Kotwali police on Tuesday afternoon, took the cheerleaders by surprise just before CSK's clash against Delhi Daredevils in Raipur. The cheerleaders felt if the police had any problems they should have contacted the event manager.
"It's ridiculous that we are being treated like this by the cops," Times of India quoted one of the cheer girls as saying.
"They could have contacted our event manager directly rather than rushing straight to our rooms. We all have work permits and we have been associated with Bollywood. We have never had such a bad experience in India."
IPL cheerleaders have been synonymous with the tournament ever since its inception in 2008. Most of the cheerleaders are foreign nationals.
It was unclear as to why police officials, including women cops, entered the hotel rooms or if they had any warrant to do so. The City Superintendent of Police of Kotwali circle, Anshuman Singh Sisodiya, said it was "routine checking".
"It was routine checking. We were informed about some foreign girls checking in a hotel under Kotwali Police circle. A team led by senior police officials visited the hotel and checked the rooms of the girls just to make sure there wasn't anything suspicious," he said.
Crew head Kartikeyan felt that the police should have checked the guest lists.
"The cops should have checked the guest lists and checked their IDs. if they had any doubt they should have quizzed everyone," Kartikeyan said.
Earlier, the cheerleaders used to stay in the same hotel where the players stayed, but that has now been changed after all the fixing scandals that erupted a couple of years ago.
"There has been no such problem in any city with the cheer girls. Earlier, they used to stay in the team hotel. But after the spot-fixing scandal, the BCCI is extra cautious and that is why they are now staying in a different hotel. They also do not take the same flight as the players," added Kartikeyan.