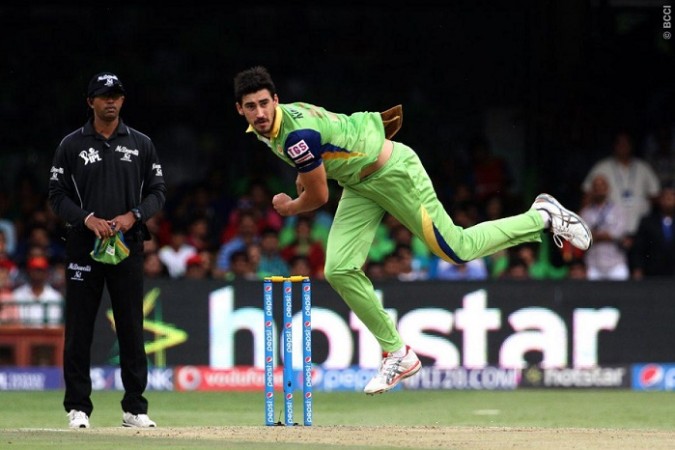 The Pepsi Indian Premier League (IPL) 2015 has been one of the most exciting T20 tournaments ever. This IPL proved the idea of T20 cricket being ruled by the batsmen wrong, as the bowlers from different franchises have showcased some match-winning performances to give their respective sides a chance before their opponents.
Undoubtedly, batsmen from around the world have put forth good batting performances this season but there have been some exceptional bowling spells that took the bowling standards of the IPL 2015 to a whole new level.
Let us have a look at five of the magical spells that bowlers like Mitchell Starc, Ashish Nehra, Zaheer Khan and other bowled this season:
1. Ashish Nehra (4 overs, 10 runs, 4 wickets) - Chennai Super Kings (CSK) outplayed the Royal Challengers Bangalore (RCB) in match no. 20 of the IPL 2015 to register a victory by 27 runs; courtesy a superb spell of fast bowling from Ashish Nehra. He managed to bag four wickets by giving away just 10 runs in his four allotted overs and won CSK the match quite comfortably.
Click here to watch Ashish Nehra's spell.
2. Mitchell Starc (4 overs, 15 runs, 4 wickets) - RCB amassed a total of 226 on the board with the help of Chris Gayle's blistering century in match no. 40 of the IPL 2015. With the kind of form Kings XI Punjab (KXIP) were in, it was an up-hill task. Starc being the spearhead of the RCB bowling attack rattled the KXIP batting line-up with his fierce pace and swing.
Click here to watch Mitchell Starc's fiery spell.
3. Sunil Narine (4 overs, 19 runs, 4 wickets) - KXIP set a target of 184 runs for Kolkata Knight Riders (KKR) in 20 overs in match no 44 of the IPL 2015. When the other bowlers were being taken to the cleaners by KXIP batsmen, it was Sunil Narine, the mystery spinner from KKR, who stepped up and picked up four important wickets to give his side a chance ahead of their opponents.
Click here to Sunil Narine's spell.
4. Ravindra Jadeja (4 overs, 11 runs, 4 wickets) - A close encounter between CSK and Rajasthan Royals (RR) in match no. 47 of the IPL 2015 saw CSK all-rounder Ravindra Jadeja winning the match for his side single-handedly. RR was chasing a target of 158 and they had a good start to their innings with Shane Watson and Ajinkya Rahane timing the ball sweetly. But it was only a matter of time till MS Dhoni threw his ultimate dice in the form of Jadeja. Surprisingly, Dhoni did not bowl Ravichandran Ashwin in this match in spite of having him in the playing XI.
Click here to watch Ravindra Jadeja's match-winning spell.
5. Zaheer Khan (4 overs 9 runs 2 wickets) - Delhi Daredevils (DD) were up against the mighty CSK in match no. 49 of the IPL 2015. Who would have thought that the Daredevils would restrict CSK to a meagre total of 119 runs in 20 overs. But the veteran Indian paceman Zaheer Khan made it possible with his magical spell.
Click here to watch Zaheer Khan's magical spell.