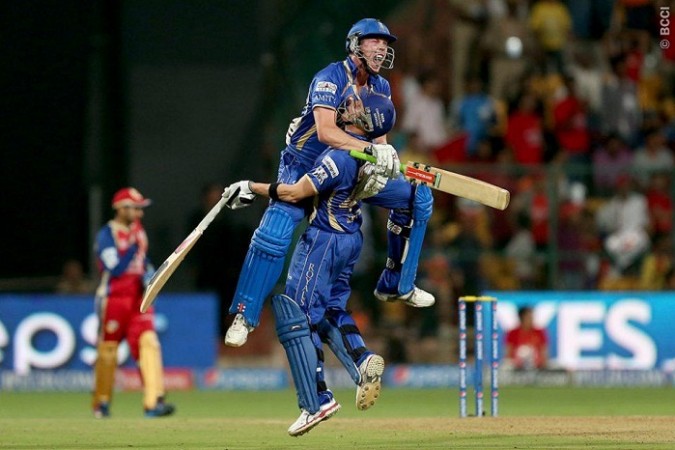 George Bailey, Glenn Maxwell, Mitchell Johnson, Shane Watson, Steven Smith and James Faulkner –six players who played their parts in Australia winning the ICC Cricket World Cup 2015, and now six players who will be on view in Pune come Friday, when Kings XI Punjab face the Rajasthan Royals in IPL 2015.
Australians have always been an integral part of the IPL, and that Aussie domination cannot be showcased more than during the IPL 2015 KXIP vs RR match.
Bailey might not have had to do too much at the World Cup, after being benched following a half-century against England in the opening match of the tournament. However, Maxwell, Johnson, Watson, Smith and Faulkner were integral parts of Australia's run to the title, with Smith, of course, the standout performer in that bunch.
Smith will be the cynosure of this Aussie-dominated IPL matchup in many ways, owing largely to the ridiculous run of form he is in right now. From a bit-part player a couple of years ago, Smith has turned into one of the best batsmen in the world, and having shown his skills in stunning style in the Test and ODI formats, it will be the turn of the IPL and T20 to enjoy his awe-inspiring talent.
"For sure it's good to have him on our side," said Rajasthan Royals all-rounder Stuart Binny, who had to watch from the India camp as Smith caressed and smashed the ball, be that white or red, in equal measure. "Steven Smith is in tremendous form.
"It was a pleasure watching him in Australia. It is good to have people in form and guys coming in to the tournament can take a lot of confidence from him and have a chat with him and see what space he is in and how he got into that mental space to score runs."
Even the word runs would have gotten exhausted of Smith right now, such is the frequency with which he has been gliding out those big scores. The only way bowlers were able to get Smith out at the World Cup, or indeed the Test series against India, was via the batsman himself giving his wicket away, and that might have to be the case again in IPL 2015.
Such is Smith's assurance at the crease right now, that bowlers just do not know where to bowl to him. Bailey, though, is hopeful his compatriot finally falls prey to the law of averages come Friday.
"He has been very extraordinary to watch," said the Kings XI Punjab skipper. "I think he has worked out his game, worked out the tempo of matches and has worked out how to build himself into an innings. He is flying on that confidence and freedom that comes with being in a really good form.
"He has worked really hard on his game and that has been pleasing to see someone put in the hours and get the rewards. Having said that he is probably due to miss out, and if he wants to miss out tomorrow, that would be fantastic (for us)."
While Smith will look to light up the IPL with a match-winning innings, so will Maxwell, who was the main man in IPL 2014. The T20 format is best suited for a man of Maxwell's talents, and like he showed last season, if he strikes form, then those hard hats will come into play for supporters in the stands.
"His role hasn't really changed from last season," said Bailey when asked about Maxwell. "He had a fabulous season for us and that's why he is an important player for us as he comes into every facet of the game.
"He is obviously hard for other teams to pin down, probably has a wider range of shots than anyone else in the world.
"At no stage of the game is he out of the game and he is obviously that sort of the personality as well. When he is going well I think it is every easy for the rest of the team to get swept up and tag along with him."
Smith and Maxwell might be the ones that set the pulses raising most, but in Faulkner, Watson, Bailey and Johnson, both teams have Aussie players equally capable of getting their respective IPL 2015 campaigns off to a roaring start, and in about 12 hours time, we'll know which one of those superstars took up the early-season "man that was something" mantle.