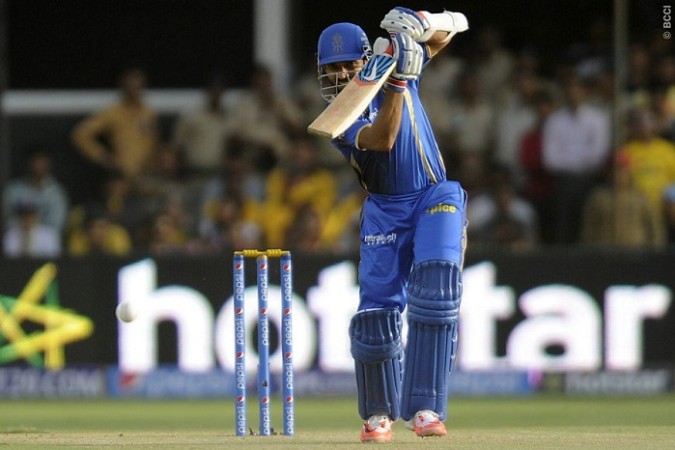 Rajasthan Royals (RR) star batsman Ajinkya Rahane loves to keep things simple and focuses on his preparations before every match. He has been in superb form during the Pepsi Indian Premier League (IPL) 2015 and was the holder of the 'Orange Cap' until David Warner went past him on Saturday.
Rahane has already amassed 339 in 10 matches at an average of 48.42. He is brilliant at the top of the order and is capable of guiding his side to victory and also has the ability of playing a long innings .
"I keep my game simple. It's important for me to practice before every game and series. I just focus on my preparations," said Rahane in an interview to the official website of The Times of India.
"It's about mental adjustment as the technique remains the same. I focus on my mental aspect. It's important how you assess the ground and wicket conditions and adjust quickly," said Rahane.
He also credited Rahul Dravid and Pravin Amre for constantly guiding him to improve his game. "I regularly speak to Rahul bhai about my batting, my preparations and the way he used to prepare. He told me to keep my game simple and not to complicate it. The more you keep it simple the more you will be successful' was his advice and I try to do that. Preparations before every tour is very important and Pravin Sir has told me about this," added Rahane.
His batting techniques and his composure has improved after the long tour of Australia, followed by the recently concluded ICC World Cup 2015. He is high on confidence and does not hold himself back to play his shots.
"My confidence level has gone up after my stay in Australia over the last four months and the way I played, showing some aggressive cricket even in Tests," exclaimed Rahane.
The Royals will take on the Delhi Dardevils on Sunday at the Brabourne Stadium, Mumbai. They would be desperate to get back to winning ways as they have not won a single match in their last five games and Ajinkya Rahane will have to play a bigger role in order to pull his side back on track.