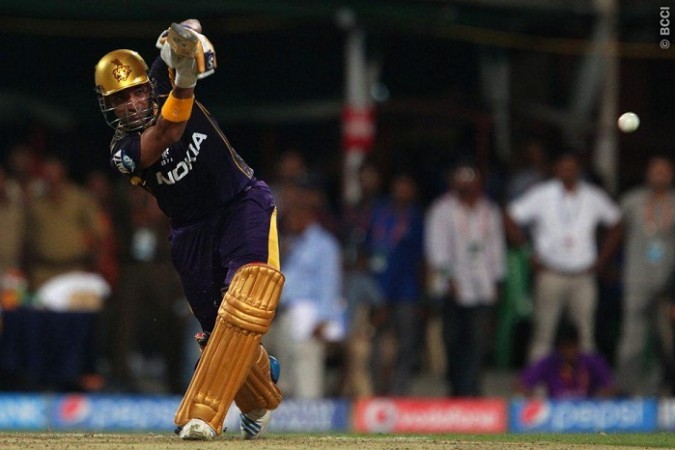 Not too long ago, Robin Uthappa and his international career were as far apart as Santa Claus and a sunny beach. How quickly things can change, though. A sound domestic season and a rollicking IPL 2014, and Uthappa has stormed into India colours, colours he has no plans to relinquish anytime soon.
"It is not about being a part of the Indian team, it is about winning matches for my country right now," Uthappa told IPL's official website. "I am grateful that I have got that opportunity and I am looking forward to it.
"I am happy that my performances have given me a chance to play for my country and I feel proud about that fact. I want to win matches for India and perform my role as an opening batsman to the best of my ability."
Uthappa, the runaway leader for the Orange Cap aka the highest run scorer in the IPL, cannot be faulted too much for maybe thinking ahead a little and looking forward to his first India cap since 2008. However, the Kolkata Knight Riders opener is refusing to do just that, instead concentrating on winning KKR the IPL title, after they thumped Kings XI Punjab to book a final berth.
"At this point of time though I am only thinking about the next game in the IPL," he said. "I have had a dream of a season, winning almost everything in the domestic circuit, and to top it up with the IPL title would be amazing."
KKR are having a dream run at the moment, winning eight matches in a row, including that incredible victory over the Sunrisers Hyderabad, with Uthappa the catalyst behind the streak. The Karnataka batsman is on a brilliant run of his own, with his 41 against KXIP on Wednesday, making it the tenth straight game he has scored over 40 or more.
Despite all the personal and team accolades, though, Uthappa still feels he should be performing better for KKR. "I am pretty disappointed with the way I have been getting out," Uthappa said. "I have been setting myself up for a big score but have not been able to get it.
"I am a bit upset with that since I am not fulfilling what I am setting out to do for my team. Even today, I should have gone ahead and completed my job, but ended up doing only half of it. I set high standards for myself and I see myself falling short of those standards and that is why I am disappointed.
"There is still one game to go and I am pretty confident that I will do well if I stick to my game plans."
The game plan on Sunday, the day of the IPL 2014 final, where KKR will meet either Kings XI Punjab or the Chennai Super Kings at the Chinnaswamy Stadium in Bangalore, will be to make full use of the fact that Uthappa will be playing at his home ground, the ground where he has scored bucket loads throughout his career.
"A few of us in this KKR side are from Karnataka and we are looking forward to going back home and playing in front of the home crowd," he added. "I think our home crowd will support us. We always ride on the support of the crowd and the atmosphere is going to be amazing."