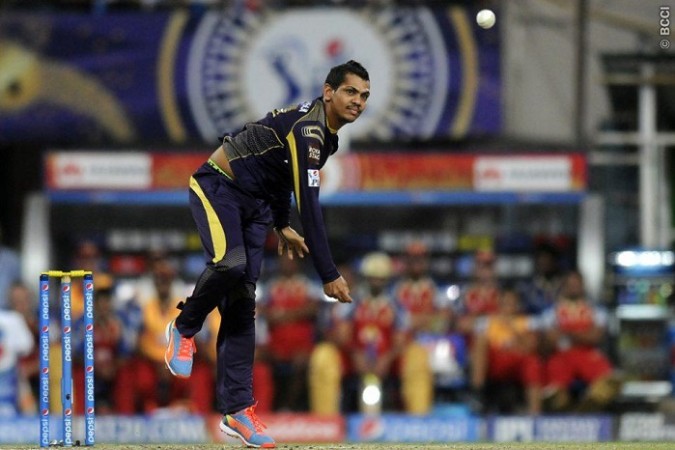 Robin Uthappa, once an RCB favourite and one of the more popular players in Karnataka shores, and that cannot-hit-even-if-you-have-dynamite-loaded-into-your-bat bowler Sunil Narine combined brilliantly with bat and ball to end the Royal Challengers Bangalore's quest to finish in the playoff places of IPL 2014 as the Kolkata Knight Riders stormed to the knockout stages of the tournament with their sixth straight win.
A partisan Eden Gardens crowd got to witness KKR's best batting performance of the season by some distance, with Uthappa coming to the fore yet again with a wonderful unbeaten 83, aided brilliantly by Shakib Al Hasan (60), as the home side put on a huge 195 for four in their 20 overs.
Knowing only a win would keep them in the running for the playoffs, the scoreboard pressure got to RCB, with Narine (4-0-20-4) showing his T20 bowling skills in ridiculously effective fashion to restrict the side from Bangalore to just 165 for five.
The massive 30-run win took KKR to 16 points from 13 matches, ensuring their spot in the top four, while RCB's season is done and dusted with the superstars Chris Gayle, AB De Villiers, Yuvraj Singh and captain Virat Kohli, looking back on another season that has come and gone with them found wanting.
KKR's total seemed to say "You want to win to stay in the IPL this year, then show your batting prowess", and RCB's big men flattered to deceive yet again.
Their biggest man, by stature and style, could not wield that big willow of his to stunning effect against his former side, with Gayle (6, 9b, 1x4) falling in just the second over, trapped in front by a beautiful in-dipper from Umesh Yadav.
Kohli, fresh from a nice half-century against the Sunrisers Hyderabad, went about bringing that massive target down as quickly as possible, playing a few nice shots, even if he still did not look as good as he has over the past couple of years in India colours.
Yogesh Takawale was brought in for Parthiv Patel, and the wicketkeeper/batsman did well enough, striking a 36-ball 45 (5x4, 1x6), while allying for 85 runs in 10.3 overs with his skipper for the second wicket. Kohli was setting himself up for the final assault in the second half, only to become the prey of that ace T20 predator – Narine.
Kohli was lucky to survive an edge off Narine's second delivery in the 13th over, but the West Indian magician would have his man in the very next ball, inducing a thick edge which went flying to Morne Morkel, who hung on brilliantly to his left, at short third man.
Narine made it two wickets in the over, with Takawale chopping one on as all that momentum was taken away in a single over. With Yuvraj and De Villiers, though, anything was still possible, even if the equation was 103 runs from the final seven overs.
With Narine in the locker for KKR and Gautam Gambhir, however, there was only going to be one result, with the off-spinner sending both Yuvraj (22, 12b, 1x4, 2x6) and AB De Villiers (13, 13b, 1x4) back to the pavilion to shut out RCB's season.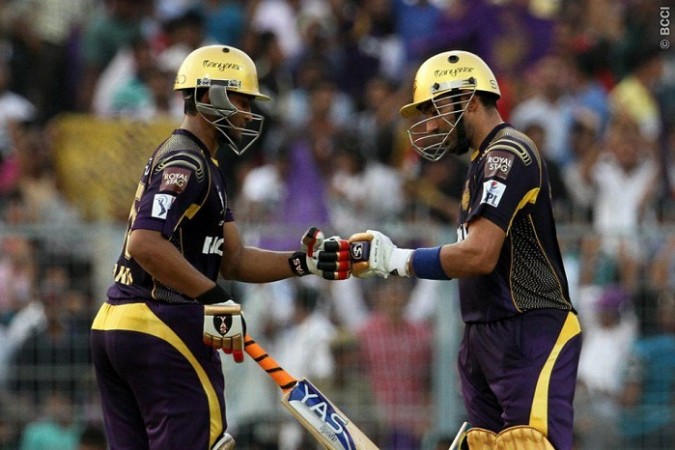 The first innings witnessed another brilliant innings from Uthappa, with Shakib, the man who finished the game off in a hurry against CSK, also showing his class in front of a packed Eden Gardens.
The innings did not go according to script, though, with KKR unable to put on that solid opening partnership which has been so crucial during their brilliant winning run. Gambhir failed to make much of an impression, falling in the first over to Mitchell Starc after finding a thin edge through the wicketkeeper off a ball down the leg side.
RCB strengthened their grip on KKR further with the wicket of their former player Manish Pandey (13, 12b, 3x4), who sliced a wide delivery from Ashoke Dinda straight to catch-always-comes-to-me Starc at third man.
Yusuf Pathan has found some much-needed form of late, looking more like a batsman, rather than a man with a piece of wood in his hand with little idea of how to use it. The slugger got off to a roaring start, stroking a four off his first delivery, before tonking a couple of sixes off the spinners to give KKR that little bit of momentum.
Pathan (22, 13b, 1x4, 2x6) looked on course for a quickfire 40-50 at least, but threw his wicket away by going for a non-existent single and then failing to keep his bat down while diving back to get into the crease. That wicket put KKR on a precarious 56 for three in seven overs; but with Uthappa, the in-form batsman of IPL 2014 at the crease, the home side needn't have worried.
The KKR opener has been a revelation in this tournament, throwing away those false strokes which has ended one promising innings after another prematurely, and stubbornly playing straight and true irrespective of the situation. The KKR opener, revelling against his old team, would not sacrifice the straight bat for a hoick over midwicket even in the death overs, with the decision doing him little harm, as he played another brilliant innings.
Uthappa (83, 51b, 10x4, 1x6) and Shakib (60, 38b, 5x4, 3x6) , instead of blocking and piling the pressure on themselves after those relatively early wickets, counter-attacked with great effect, finding at least a boundary almost every over without really taking too many risks. Kohli and his RCB bowlers just did not have any answer to the duo's wonderful T20 batting, as the partnership climbed and climbed all the way to 121 in just 70 balls.
Abu Nechim ended the dream partnership by castling Shakib, who after missing out on a scoop in the earlier delivery went for one again with the result being his timber disturbed, in the 19th over, with Ryan Ten Doeschate adding the final touches nicely along with Uthappa to take KKR, who managed 109 runs in their final ten overs, to 195, a score which RCB never looked like getting close to.