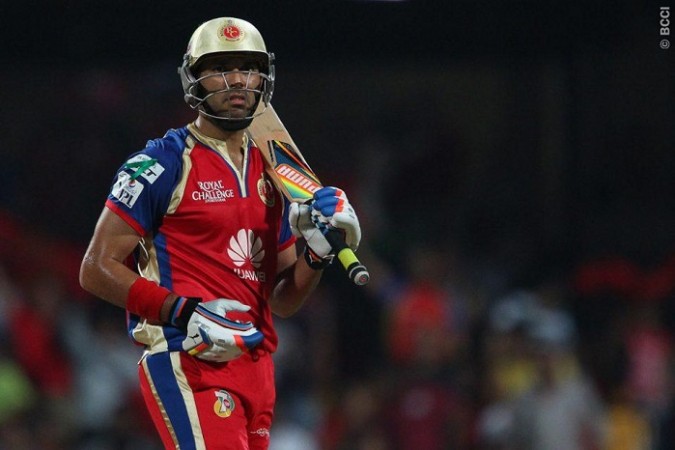 The last couple of games, Yuvraj Singh has been like a man possessed, possessed by the same man of three years ago, when everything he touched turned to gold, diamonds, platinum and a few other precious metals.
In another six-hitting master class from Yuvraj, a gem which was a match-winning one this time, with no where-did-that-come-from partnership to knock the stuffing out of his side a second straight time, the left-hander guided the Royal Challengers Bangalore to a phew-we-needed-that-one 16-run victory over the can't-buy-a-win Delhi Daredevils.
Yuvraj's hitting on Tuesday night at the Chinnaswamy Stadium was pure, clean and thrilling, with that blade of his, which had looked thinner than a stump for much of IPL 2014, looking larger than the trunk of a banyan tree. The left-hander's ridiculous unbeaten 68 from 29 balls, which had just one four, but an amazing nine sixes, propelled RCB to 186 for four in their 20 overs, after being put into bat following a rain delay of over an hour.
In reply, the Daredevils were always behind the eight ball, with JP Duminy (48, 30b, 3x4, 3x6) and Kedar Jadhav (37, 20b, 3x4, 2x6) playing valiant hands, while the likes of Kevin Pietersen and Dinesh Karthik disappointed again, unable to see their team over the line, eventually finishing on 170 for seven.
The win was an absolutely necessary one for RCB, who picked up their fourth win in ten matches to keep their playoff hopes alive, while the Daredevils are pretty much done and dusted for the season after crashing to their eighth defeat in ten.
DD needed a good start to position themselves for the chase in the final ten overs, but Murali Vijay and Quinton De Kock could not provide it as the former fell in the first over, lbw to the returning Mutthiah Muralitharan (two for 25), after surviving a run out chance in just the second ball of the innings.
De Kock was sent packing by Mitchell Starc (two for 26) in the second over, with the South African left-hander playing onto his stumps much to his disappointment as the Daredevils teetered on 10 for two.
Pietersen has not set the IPL alight this season, and there really is no better ground than the Chinnaswamy, a batsman's paradise, to get back into the groove. Pietersen and Mayank Agarwal, at his home ground and against his former team, steadied the ship with a 63-run partnership in 44 balls, taking the equation to 114 from the final 11 overs.
Agarwal, who looked good, tonking a couple of nice sixes, fell looking to take another off Abu Nechim as DD's charge was quelled with that wicket.
JP Duminy came in and struck the ball wonderfully right from the off, but the pressure on the left-hander was piled on following the wicket Pietersen (33, 29b, 2x4, 1x6) -- stumped off Yuzvendra Chahal -- and Dinesh Karthik – caught at deep midwicket off Muralitharan.
With the run rate at over 12 an over, and RCB refusing to allow another late blitzkrieg from the batsmen, it was curtains for DD, and a much-needed victory for the Bangalore side.
The first innings was all about a mini-blitz from AB De Villiers, before Yuvraj took over and went ballistic. Chris Gayle and Virat Kohli, RCB's two other big guns with the bat, failed to make an impact yet again, leaving the hitting to their other two superstars.
Gayle was dismissed by Rahul Shukla after a blow-hot, blow-cold 23-ball 22 (1x4, 2x6), while Virat Kohli (10, 11b) was run out going for a double, with Shukla doing brilliantly well in the field.
At 45 for two in the ninth over, the Royal Challengers needed a partnership, and got one in the shape of Parthiv Patel and De Villiers, with no prizes for guessing who the aggressor was. The 49-run partnership in just 4.2 overs, gave RCB a bit of momentum with De Villiers looking to enjoy himself at the Chinnaswamy again.
Patel (29, 28b, 4x4) played his part well and fell at a good time from RCB's point of view – in the 13th over – allowing Yuvraj to take his time, get himself settled and then bring a bit of pain on the DD bowlers.
De Villiers' bright cameo of 33 (17b, 4x4, 1x6) was ended by Siddharth Kaul, who struck timber off a nice incoming delivery. At 107 for four in 14.2 overs, if RCB were to get to even a score of 160 – far from par as the matches this season have proved – all depended on Yuvraj, and boy did he deliver, and then a lot.
The final four overs was just all-out assault with hard hats very much the need of the day for the ecstatic RCB crowd. From 10 in 10 balls at the end of the 16th over, with Bangalore on 115 for four, Yuvraj smoked 58 runs from his next 19 deliveries, while RCB jumped to a definitely-above-par 186 for four.
In all that there were nine sixes from Yuvraj, including three in a row twice as the likes of Shukla (4-0-41-1) and Imran Tahir (4-0-48-0) were toasted into oblivion, with DD never really recovering from that pasting.