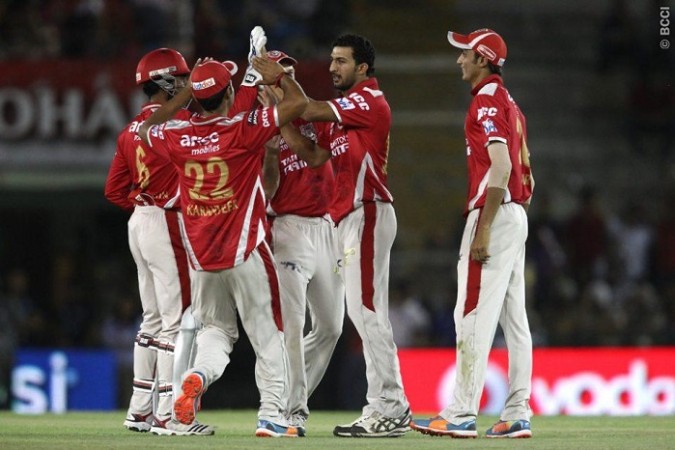 The Mumbai Indians and the Sunrisers Hyderabad would have heaved a huge sigh of relief after seeing the Rajasthan Royals throw away their chance of making the IPL 2014 playoffs by falling to a comprehensive defeat to the Kings XI Punjab in Mohali on Friday night.
MI had done their bit by winning their early match on Friday to keep the pressure on the Royals, who would have sealed a top four spot, and with it ended all hopes for the Mumbai Indians and SRH, with a win.
However, the pressure just seemed to get to them as they floundered while chasing a big target of 180, after KXIP finished on 179 for four, only managing 163 for eight to crash to a 16-run defeat.
The loss means the fight for fourth place will go right down to the final game of the regular season, when the Royals travel to the Wankhede to face the Mumbai Indians on Sunday. The Sunrisers can keep themselves in the running by beating the Kolkata Knight Riders at the Eden Gardens on Saturday.
If SRH win and MI beat RR, then all three teams will finish on 14 points, with the net run rate then coming into play. The Royals do have the upper hand at the moment on that front, but you never know – a big win and a huge loss and it could be anybody's spot to grab.
The two points for Kings XI means they will finish IPL 2014 as the top team having already picked up 20 points from 13 matches, four more than their nearest rivals CSK and KKR.
The reply never really took shape for the Rajasthan Royals, with the team in blue not really able to put on a big partnership together to set that platform needed when chasing such a big score.
Ajinkya Rahane, back in the lineup, and Karun Nair could not provide the solid start they so often have given this season, with Nair falling in just the third over, top-edging a delivery from Lakshmipathy Balaji while going for a big heave.
Rahane and Samson looked to build that much-needed alliance, and even if they put on 35 in 33 balls, the accelerator button just never looked like coming to the fore any time soon. The two batsmen were just chipping along in their own time, with the odd boundary here or there, and when Rahane (23, 26b, 2x4) looked to step on the gas, his wicket fell – literally with Rishi Dhawan castling the right-hander.
Dhawan (4-0-25-2) made it two wickets in two balls by doing the same to Shane Watson, who could not get this bat down in time as the ball struck timber again, with the Royals finding themselves in deep trouble at 56 for three in the ninth over.
With the required run rate at well over 10 at that point, and the spinners, especially Karanveer Singh (4-0-16-2), enjoying themselves on a track that giving some turn, even the likes of Sanju Samson (29, 27b, 2x4, 1x6), Brad Hodge (31, 18b, 2x4, 2x6) and James Faulkner (35, 13b, 1x4, 4x6), who along with his compatriot should have come in a lot earlier rather than well down the batting lineup, could not do enough as KXIP eased home.
Earlier, the Kings XI Punjab got to a score of 179 courtesy an all-round effort from their batsmen. No particular player stood out in the innings, with all six batsmen that got to the crease getting to double figures, with the lowest of those scores being 18 made by Virender Sehwag.
Sehwag (18, 8b, 3x4, 1x6) got off to a blistering start, carting Vikramjeet Malik for two fours and a six in the first over. The marauder made it four consecutive boundaries off his blade in the first ball of the third over, before an attempt at making it five led to his demise.
Manan Vohra, Sehwag's opening partner, has been quite impressive in the last few games for KXIP, and those brilliant strokes were on view again, with a flick over long-on for a massive six particularly catching the eye.
However, the youngster will want to forget his dismissal, after a 25-run effort (20b, 3x4, 1x6), quite quickly. A quick double looked to be completed easily enough, only for Vohra to show ridiculous laziness in his running, ambling to his crease and not even bothering to ground his bat with a nice direct hit from Binny sending him packing – dismissals like that from a 20-year-old should be unacceptable, and undoubtedly Vohra would have been given a dressing down from Sanjay Bangar and co.
Before throwing away his wicket, Vohra had put on 30 runs in 25 balls with Shaun Marsh, who, playing his second straight game, impressed yet again with the bat, scoring 40 from 35 (5x4, 1x6) to end up as the top scorer in the innings.
KXIP, though, just kept getting pegged back from going berserk by wickets, with Marsh and Wriddhiman Saha (27, 20b, 4x4), yet again playing a nice little hand, falling in quick succession, with a small rain delay in between, to put the pressure on George Bailey and David Miller to go boundary-crazy in the final overs.
Bailey (26, 18b, 1x4, 1x6) and Miller (29, 20b, 2x6) took their time in their first couple of overs, the 15th and 16th, together, before finding their groove to great effect in the final three overs, putting on a crucial 60 in 32 balls together. James Faulkner, who went for 39 in his three overs, bore the maximum brunt, conceding 23 runs in the penultimate over of the innings as KXIP jumped to another big score, which proved to be enough, and then some.