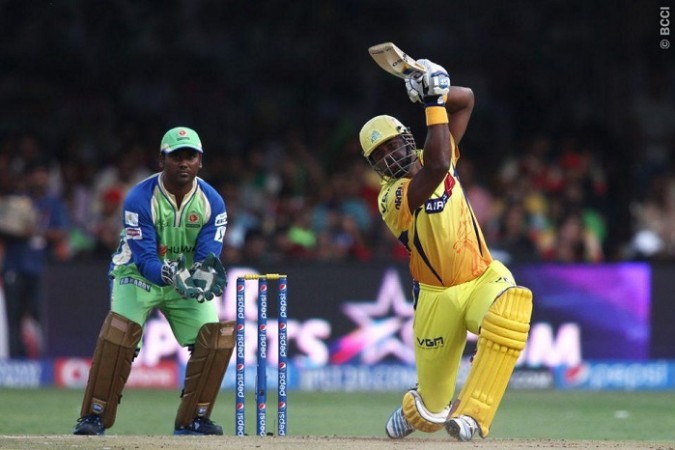 The Chennai Super Kings pretty much assured their place in the top two with a big win over the Royal Challengers Bangalore at the Chinnaswamy Stadium.
CSK needed two points to move ahead of the Kolkata Knight Riders, and they went about picking those precious points up in a thoroughly professional manner, restricting the mighty RCB batting lineup to just 154 for six, with only Virat Kohli (73) making a score of note.
The chase was smooth and easy, with Dwayne Smith (34) providing the charge up front, before Faf Du Plessis (59 n.o.) and MS Dhoni (48 n.o.) saw their side home comfortably as CSK finished on 160 for two in 17.2 overs.
The big win means CSK, who snapped their three-match losing streak, now have 18 points from 14 games, with a far superior net run rate to KKR, who can also get to 18 with a victory, but the men from Kolkata will need to pull off a massive win against the Sunrisers Hyderabad to top CSK's run rate.
The Royal Challengers Bangalore's miserable season ended with their ninth defeat of the season, and with the ridiculous batting power they have at their disposal, one wonders just how they managed just 10 points all season.
Whenever Smith strikes form for CSK, they usually win and with the mood that the West Indian was in at the top, there was only ever going to be one result. Smith decided to murder RCB right from the off, with no bowler allowed to settle as CSK pounded their way to 53 in the first four overs, with Smith scoring 30 of those from just 15 balls.
Smith (34, 17b, 4x4, 1x6) would add another boundary off the first ball of the fifth, before Ravi Rampaul would get his man, inducing a mistimed shot to the legside off a slower delivery, much to the relief of RCB.
Faf Du Plessis, at the other end, was not going too badly either with the South African finding boundaries at will along with Smith, but once his opening partner fell, Du Plessis settled the innings down with Raina, putting on 28 in 5.1 overs, which with the blazing start, did no harm at all.
Raina (18, 18b, 2x4) was picked up by Yuvraj Singh in the 10th over, after the left-hander missed a full delivery while coming down the pitch, with Yogesh Takawale completing the stumping, but Du Plessis (54 n.o., 43b, 3x4, 3x6) and MS Dhoni (49 n.o., 28b, 4x4, 3x6) were their usual calming best, putting on an unbeaten 75 from 49 balls.
Both players had a life each – Du Plessis lucky not to be given caught out, while Dhoni survived a stumping chance – but apart from that there was very little worry as the two captains of their respective nations easily chased down the target with Dhoni, in particular, turning on the style towards the end.
The first innings saw only one man stand up, with the other big guns, albeit without Chris Gayle, failing to deliver in IPL 2014 again.
Gayle was rested for the final match of RCB's season with Riley Rossouw batting at the top with Yogesh Takawale. The change in the lineup did not work, however, as Ashish Nehra, back in the CSK team, castled Rossouw to set the early tone for the match.
Takawale and Vijay Zol, sent in ahead of Kohli, could not quite get that RCB crowd, decked in green like their team, out of their seats, even if there were a few decent strokes, with Samuel Badree, particularly, going for a few.
The 29-run partnership from 24 balls, though, probably came to an end at the right time for RCB, with Takawale's (19, 17b, 4x4) wicket bringing Kohli to the crease. Kohli would be joined by Yuvraj soon enough in the sixth over, as Zol (13, 12b, 1x6) was also sent packing in the next over, bowled by Mohit Sharma.
The stage was set for the two great friends – Kohli and Yuvraj – to go on a full-out assault with absolutely nothing to lose. But, much to the disappointment of those fanatical fans, there was to be no "man did you see those massive sixes, they were unbelievable" at the Chinnaswamy.
Yuvraj stuck in there for 24 balls, making just 25 (2x4), while putting on 55 from 50 deliveries with Kohli, as the home side were unable to find any momentum in the middle overs. The left-handed Yuvraj, yet again, struggled to find that mojo of his which has only come to light in spurts this season, with the veteran holing out at deep midwicket off Ravindra Jadeja in the last ball of the 14th over.
AB De Villiers (10, 6b, 2x4) came in, struck a trademark reverse-sweep boundary, before a hoick over midwicket was unfortunately followed by his dismissal – Nehra (4-0-33-3) finding that yorker to perfection to strike timber.
The early wicket of De Villiers meant it was all on Kohli to get RCB to a total they could even consider defending, even if the wicket was not as true and comes-nicely-onto-the-bat as it usually is, with the ball holding up a little. Kohli (73, 49b, 2x4, 5x6) did that, stroking a few boundaries and sixes in the final overs – 53 runs coming from the last 30 balls – to take his team to a score of over 150.