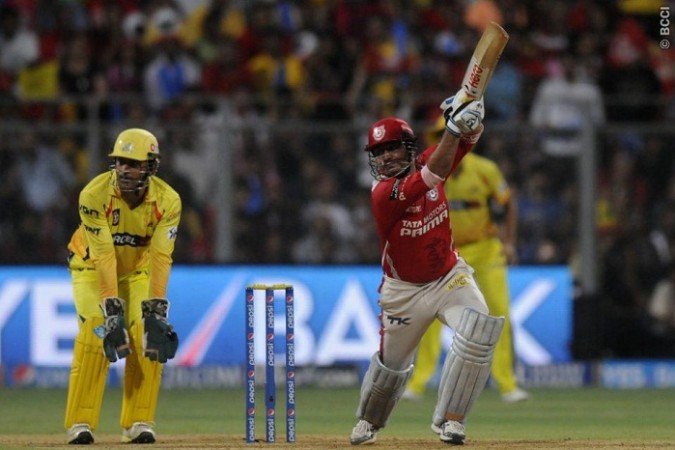 Virender Sehwag, when he is on song is a thing of beauty. Unfortunately, with age, that unique explosiveness combined with consistency that Sehwag had, has become as sparse as water in a desert. But on Friday, in front of a packed Wankhede crowd, Sehwag found his oasis, an oasis filled with some of the most joyful cricketing shots you could imagine.
The opener's brilliant 122 from 58 set the game up for Kings XI Punjab, who apart from a scare from an equally explosive Suresh Raina, held their nerves in the second innings to seal a place in the IPL 2014 final.
Sehwag was the main man finally for KXIP in this season's IPL, after watching the likes of Glenn Maxwell, David Miller, Shaun Marsh, George Bailey, Wriddhiman Saha and even his opening partner Manan Vohra take the spotlight wielding the willow.
"It's been a long time," Sehwag told IPL's official website. "I played 14 games and got the starts. I knew that a big innings was around the corner. But I'd like to believe that the best is yet to come and hopefully it will come in Bangalore in the next game. Let's hope we play the same quality of cricket in the final that we have throughout the tournament."
Sometimes when you walk out into the field, you just feel that this day is going to be great, that there is a stellar innings coming up, with adrenaline already coursing through your veins, and Sehwag admitted to feeling the same way on run-fest Friday.
"A couple of people actually called me," he said. "One of them was the BCCI treasurer, Mr. Anirudh Chaudhary. He called me in the morning and said, 'Boss, I have a feeling that today is going to be your day'.
"It was nice of him to make me realise that. When I walked in to bat today, I told myself, 'If today is indeed my day, the Chennai Super Kings have to pay.'"
Pay the Chennai Super Kings did, with a mammoth total of 226 proving to be just too far a target to breach. David Miller, who watched from the other end as Sehwag went hammer and tongs, was in awe of the great man's batsmanship.
"It was phenomenal to stand once again on the non-striker's end and watch him perform like that," Miller said. "It was the probably the best seat in the house. So it was really special for me and my career.
"You always hear a lot of things about people until you meet them, and Sehwag has been a phenomenal man. I have really learnt a lot from him and just the way he goes about things. He has been a humble man and very generous and really good to the younger players."
One more match now awaits the Kings XI Punjab, and if they can gain a measure of revenge against the Kolkata Knight Riders in the final, then all that good work, done through the season, would not have been for nought.