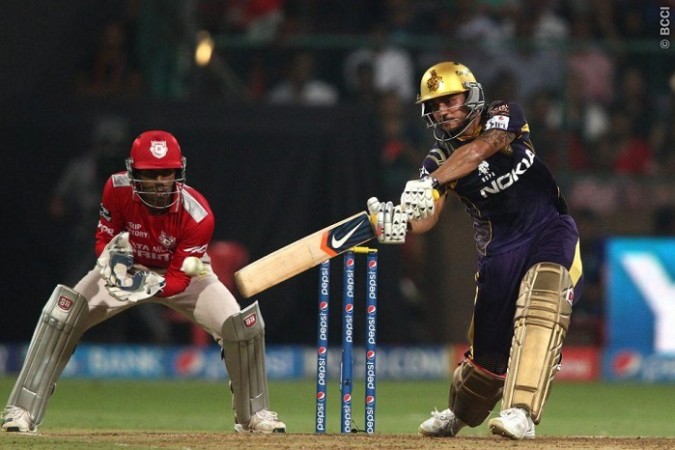 In an IPL 2014 final littered with batting superstars, it was not a Glenn Maxwell or a David Miller or a Robin Uthappa that set the pulses racing with some outrageous batting. It wasn't Virender Sehwag, his good friend Gautam Gambhir or George Bailey either.
Instead it was a young gun with fear not quite existing in his dictionary yet, a little more seasoned professional who announced himself to the IPL with a glorious century five years ago and a veteran who has had to live in the shadow of India's greatest ever wicketkeeper/batsman.
Manan Vohra, Manish Pandey and Wriddhiman Saha would not have been the names picked up by too many people in their Fantasy IPL teams to garner them the maximum points. Vohra, yes, has showed that capability on a few occasions this season, but Pandey, despite being reasonable consistent, had not quite caught fire in IPL 2014, while Saha, a couple of outstanding blitzes notwithstanding, was still looked at as a Test-type batsman.
Yet, these three relatively unheralded Indians, taking things into context of course, stepped up in the final of the biggest domestic T20 tournament in the world.
If ever there was a time to celebrate all good things about the IPL, this was it. There were no superstars taking the reins and running away with the game; it was all about players grabbing an opportunity at a stage they would not normally face and smashing it out of the park.
Vohra and Saha started it with a stunning partnership – while Vohra looked good, assured and sound playing a few of his now familiar strokes, the first innings of IPL 2014 was all about Saha.
The right-hander gave a glimpse of what he was capable of when he struck a brilliant 26-ball 54 against the Sunrisers Hyderabad in the league phase, helping Kings XI chase down a target of 206 with ridiculous ease. But yet, that innings, and a couple of decent ones more, looked more like the exception than the rule.
But rule Saha did on Sunday night at the M Chinnaswamy Stadium in Bangalore, battering the KKR bowlers, Sunil Narine, well and truly, included, out of the park in some style. The manner in which Saha attacked Narine was captivating – the 29-year-old from Bengal proving that Narine was not unhittable after all, as the KKR offspinner went for 46 runs in his four overs, his joint highest ever.
So, the game as set up for Saha to take the Man of the Match honours and party with the rest of his Kings XI teammates as they clinched their first ever IPL title.
But then, in stepped Pandey, revelling in his home ground, and unfurling those strokes that made him a look like a dead-set India regular of the future. There was no fear in Pandey's innings, no doubts, no apprehensions. It was calculated, ruthless and just plain damn good!
Every time a wicket fell, Pandey would take the pressure off KKR immediately by thumping a four or a six. Only twice, at the end of an over, was the required run rate allowed to go over 11, a testament to Pandey's brilliance in the chase.
Yusuf Pathan, another Indian, gave his teammate good company, building a vital partnership for the third wicket as KKR systematically carved out the runs required. To chase down 200 in any game isn't easy, but to do it in an IPL final cranks that achievement up a little, and with it Pandey's innings too.
It is a pity that an innings of Saha's class had to be in a losing cause, much like Suresh Raina's blitzkrieg was for the Chennai Super Kings; but then Pandey's 94 was not too bad either, and most definitely worthy of winning his team their second IPL title in three years.