Apple's new iPhone X entered global markets on Friday, marking the company's foray into the smartphone industry's latest trend of full-screen designs. Apple is hopeful of its latest feature-rich iPhone model, but an uprising of Chinese smartphone brands of late has made industry observers remain cautious, especially in China.
The Chinese smartphone market has been dominated by local brands for years. While home-grown players like OPPO, Huawei and Vivo have succeeded lately in the country, all eyes are now on Apple, which is about to make a fresh attempt to win market share in the world's largest smartphone market with the new iPhone X.
Apple's numbers are better than before
Apple, which has been struggling with declining revenue in increasingly competitive markets like China and India, has some encouraging numbers to help it remain optimistic.
In the third quarter of 2017, iPhone shipments in China grew by 17 percent year-on-year, driven by a mix of older-generation iPhones and the new iPhone 8 series. However, the demand for the iPhone 8 were "softer than expected" compared to last year's iPhone 7 series, making the company exit the quarter with some iPhone 8 inventory, according to the latest figures released Counterpoint Research.
The market research firm believes that the sluggish sales will be compensated after the iPhone X, which starts at $999, goes on sale as millions of iPhone users are waiting to upgrade.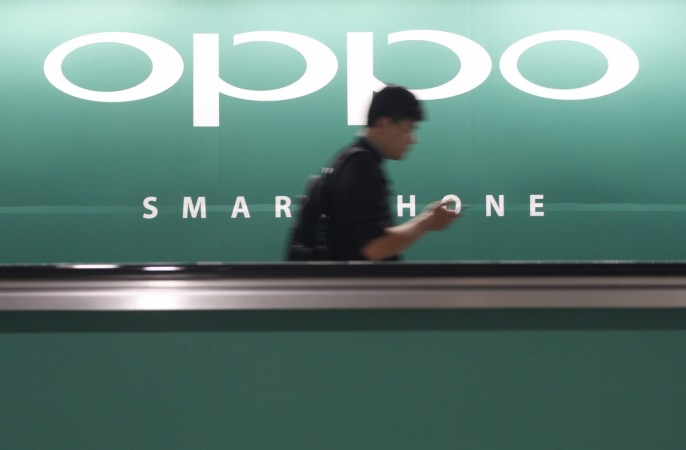 "We expect that the soft Apple sales are temporary because some of the 100 million plus loyal iPhone users will upgrade to iPhone X and, if successful, it will help Apple to grow both volume and value as demand is likely to spread beyond normal cyclic quarters," Tarun Pathak, Counterpoint's associate director, said in a statement.
Pathak was also confident about Apple's constant lead in the premium segment ($500 above), and said that the iPhone X's strong performance would further consolidate the Cupertino tech giant's leadership in the segment.
Local brands rule China
However, the overall smartphone market in China still remain a breeding ground for local brands with a much wider portfolio of devices across a broad range of price bands. The third quarter of 2017 saw the closest ever gap between the top three smartphone brands in China, suggesting that the fight for the top spot has become fiercer than ever.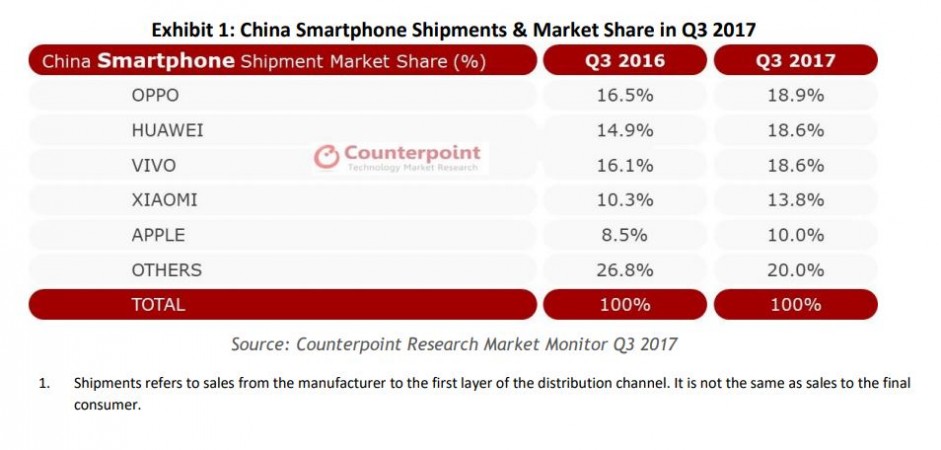 While OPPO topped the list with 18.9 percent of market share, Huawei and Vivo were marginally behind, accounting for 18.6 percent share each. Xiaomi was at the fourth position with 13.8 percent, followed by Apple with 10 percent of market share.
In China, where price plays a vital role in the buyers' decision-making before purchasing a device, iPhone X's premium price tag is expected to be a major constraint for Apple. According to a recent Bernstein survey, three-quarters of Chinese respondents were excited by the launch of the new iPhone, but only a quarter was interested in buying one, Reuters reported.
"I'm definitely interested, but don't currently plan to get one," a primary school teacher in the eastern Chinese city of Suzhou, whose monthly salary is less than the iPhone X's starting price of 8,388 yuan in China.