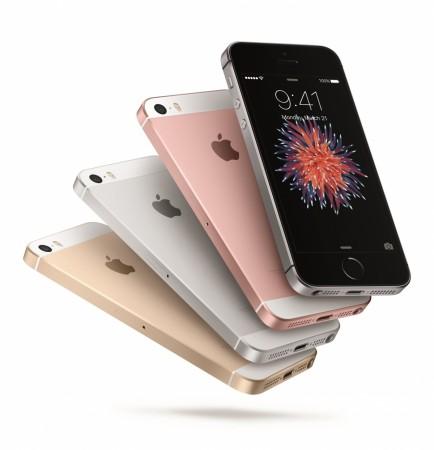 Apple's latest smartphone, the iPhone SE, is set to hit Indian stores Friday, however, its exorbitant price tag could come as a disappointment for Apple fans. The 16GB variant of the 4-inch handset comes with a price tag of Rs. 39,000, while the 64GB model will be priced Rs.49,000.
What may first come to the minds of the prospective buyers is the "price." The iPhone SE 16GB variant was launched in the United States at $399, which is around Rs, 26,600, but it will be sold in India for Rs. 39,000 (around $585). The 64GB model of the device costs $499 in the US, but it is priced at Rs.49,000, which is about $735. The huge price difference may not please Indians.
Moreover, there are chances of people opting for bigger screen iPhones currently available in the market. The iPhone SE will have to compete with other Apple handsets like the iPhone 6, which is available on several online retailers at around Rs. 35,000 for the base storage variant.
The findings of research firm IHS on the actual production cost of the iPhone SE may come as a shock to many. The teardown by the firm revealed that the handset cost the company only around $160, which is around Rs. 10,664 when converted to Indian currency, but its market price stands at $399 for the 16GB model.
The IHS teardown also revealed the iPhone SE is a blend of at least three flagship devices from Apple.
"The iPhone SE represents an amalgamation of three iPhone generations -- iPhone 5s, iPhone 6 and iPhone 6s -- rolled into something altogether new," said Andrew Rassweiler, senior director of cost benchmarking services at IHS, in a statement. "Despite its physical resemblance to the iPhone 5s, the resulting product is far superior. In fact, the only significant tradeoffs a consumer would make with the iPhone SE against the iPhone 6s is smaller size and lower screen resolution."
Apple's iPhone SE sports a 4-inch retina display with 1,136x640 pixels (326 ppi pixel density) and Touch-ID fingerprint sensor in the home button. Under the hood, it has an A9 chip, an iOS 9.3, a 16GB/64GB internal storage, a 2GB RAM, a 12MP iSight main camera with 1.22µ pixels, a 1.2MP front-snapper, and a 1,624mAh battery.