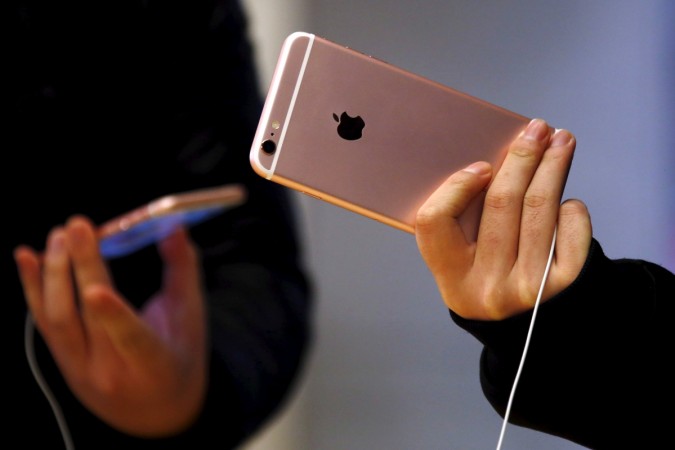 Apple's upcoming flagship dubbed as the iPhone 7 appears to be at the centre of all the rumours and new details about the new phone are surprising and shocking at the same time. Shortly after a leaked iPhone 7 case depicted the possible design of the iPhone 7, popular mobile tipster Steve Hemmerstoffer shared an image of hands on the Apple's 2016 flagship.
Hemmerstoffer of NowhereElse, who is also behind @OnLeaks Twitter handle, showed what according to him is "the most genuine iPhone 7 live picture so far." The image was originally leaked on China's social networking platform Weibo.
Only the rear side of the purported iPhone 7 is seen in the leaked image, with the biggest change being the relocated antenna lines, which have been moved to the curved top and bottom of the panel. The leaked photo appears to be of the 4.7-inch iPhone 7, boasting a larger camera sensor as hinted in a previous leak of an iPhone 7 case.
But what's changed in these two leaks is the location of the LED flash and a secondary mic, which appears below the camera in the previous leak and sits next to the camera in the latest one. Both leaks were reported by NowhereElse, which is contradictory.
Since both the leaked images showed the 4.7-inch iPhone 7, details about the 5.5-inch iPhone 7 Plus remain a mystery. But as far as rumours go, the bigger iPhone variant is going to feature a dual camera setup, which will capture more details compared to all other iPhones so far.
Assuming the leaked images are any closer to the truth, it is clear that Apple will keep its redesigning efforts at bare minimum. But the Cupertino-based tech titan is expected to up the ante next year, when it is rumoured to directly jump to iPhone 8 instead of iPhone 7s.
According to KGI Analyst Ming-Chi Kuo, who has informative sources in the deep supply chains, Apple will shift to all-glass design for its iPhone 8, ditching the current aluminium padding. The handset would also feature AMOLED displays. Analysts are betting 2018 is going to be the year for Apple.