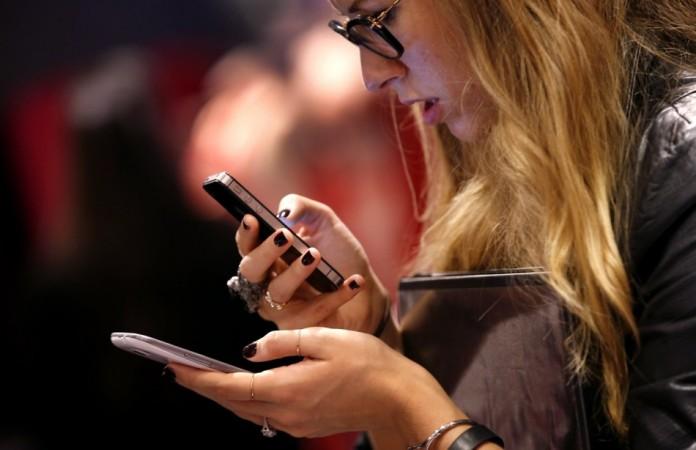 Diwali is set for next week and, to cash in on the holiday season, many MNC firms have lined up several new smartphones in the market.
Prospective consumers, who are looking for palm friendly high-end smartphones with one-hand operable flexibility, might be interested in Samsung Galaxy Alpha, Apple iPhone 6, Nokia Lumia 930 and Sony Xperia Z3 Compact.
To get a better perspective on these smartphones, we have compiled a brief description of key specifications of the devices.
Display details:
The 2014 edition of Apple iPhone (series 6) sports a 4.7-inch LED-backlit IPS screen with Retina HD (aka full HD), with 1334 x 750p resolution having pixel density of 326 ppi (pixels per inch).
Whereas rival Samsung Galaxy Alpha comes with a 4.7-inch super AMOLED HD (1280x720p) screen, having pixel density of 312 ppi [Note: it also flaunts metal-frame, providing premium feel to the phone, unlike previous Samsung devices which were panned for low build quality].
Z3 Xperia Compact features a 4.6-inch HD (1280x720p) screen with Sony's patented TRILUMINOS and X-Reality display technology. It has a pixel density of 312 ppi.
On the other hand, Nokia Lumia 930 is a bit bigger than the other devices among here. It flaunts a 5.0-inch full HD ClearBlack OLED screen, with pixel density of 441 ppi (pixels per inch).
Value-added features:
Apple iPhone 6 and Samsung Galaxy Alpha boast fingerprint sensors on the home-button on the front side, whereas Sony Xperia Z3 Compact comes with IP65/IP68 water-and-dust resistant certifications - highest rating in the smartphone industry.
[Note: Users can take the new Sony phone for a dip in the swimming pool (or any other water-body), 1.5 meter (five feet) under water for close to 30 minutes, provided all the open ports are closed by the flaps provided in the package].
Processor, RAM and storage details:
In this aspect, Apple iPhone 6 takes the lead thanks to 20-nanometer class based second generation 64-bit A8 chipset which is 25-percent faster (50-percent faster graphics too) than the A7 in iPhone 5S. It is aptly supported by second generation, M8 motion co-processor that efficiently measures user's activity from advanced sensors (including a new barometer), to measure pressure for elevation purposes and can even tell the difference between riding a bike and running, so apps like the new Nike+ app can take advantage and user do more functions for longer periods of time, with better performance and battery life. Apple iPhone 6 ships with 1GB RAM and available in three storage variants- 16GB, 64GB and 128GB. [Note: devices does not support microSD card support]
On the other Galaxy Alpha (in India), comes with company's in-house built 20-nanometer based Exynos Octa-core processor (1.8GHz quad-core + 1.3GHz quad-core) with Mali-T628 MP6 graphics engine.
Nokia Lumia 930 comes loaded with 2.2GHz Qualcomm Snapdragon 800 series quad-core CPU, backed by 2GB RAM and 32GB inbuilt memory [not expandable].
Whereas the Sony device, it comes packed with 2.5GHz Qualcomm Snapdragon 801 series CPU paired with Adreno 330 GPU, 2GB RAM and 16GB inbuilt memory (expandable up to 128GB)
Mobile operating system:
In this aspect, three smartphones- Apple iPhone 6, Galaxy Alpha and Xperia Z3 Compact have edge over Lumia 930 as they run the run on the ubiquitous and most popular mobile operating systems Apple iOS and Google's Android.
And there is an additional advantage for owning Apple phone, as its iOS is more secure than Android platform. Sans' the recent iCloud hacking, Apple's app store is more robust in keeping a tab on malware and virus, where in Android open-platform system is breeding ground for hacking and phishing spywares.
[Note: The problem is mainly to do with users (probably with low awareness) ignorantly installing apps developed by unknown publisher]
However, things are changing rapidly in Android ecosystem, as Google has upped the ante by bringing in more security measures at Play store to check malwares.
Both Apple and Google have brought in 'Kill Switch' in the newly introduced iOS v8.0 and the Lollipop OS; now, password protected factory reset options will be enabled in the phone to thwart theft.
On the other hand, Nokia Lumia 930 Microsoft's proprietary Windows Phone 8.1 OS (with Denim update). It boasts of intelligent Cortana voice-assistant search support. Users can just speak to the phone perform functions like send/read new messages and suggest eateries nearby.
This intuitive digital assistant is capable of learning owner's behavior over time and store information (with permission) to use it to make recommendations and suggestions tailored specifically to the user and is adept at setting calendar appointment and also offers the ability to proactively warn you when it's time to leave for your next appointment or remind you to pick up milk on the way home.
Only drawback of Nokia Lumia 930 (and other Windows OS phones) is that it lacks in number of value-added apps compared to Google Android and Apple iOS ecosystem, which have vast collection (more than million apps) of applications.
Apple iPhone 6 ships with iOS version 8 out-of-the-box. The new iOS has been released older devices back in mid-September, but due to some bugs in the operating system, the company has confirmed to release 8.1 on 20 October.
Sony and Samsung devices run on the Android 4.4 KitKat and both are expected to get the newly unveiled Android 5.0 Lollipop.
The Google's new Android Lollipop OS comes with overhauled design language Material design bringing inter-active user-interface, replacement of Dalvik with ART as its default runtime and many more enhancements.
[Also read: Android 5.0 Lollipop: Top Key Features of New Google Mobile OS]
[Note: Android users can also use voice-command features via 'Google Now' from phone's home screen, but this not that intuitive compared to Cortana as well as Moto X's voice-control feature– 'Ok. Google Now', whereas the Apple devices users can speak to the device via 'Siri', only thing is that users need to activate it manually]
Camera specifications:
In this department, Nokia and Sony smartphones come on top as they are known boast the best camera specifications in the industry.
First up, Nokia Lumia 930 boasts of 20.0-megapixel PureView camera with 2X zoom, Zeiss optics, ½.5-inch sensor, dual-LED flash, 26 mm camera focal-length and a 1.2-megapixel snapper on the front, good enough to take a pretty fine quality selfies.
On the other hand, Xperia Z3 Compact flaunts 20.7 megapixel camera with Exmor RS sensor, pulsed LED flash, full HD and 4K resolution video recording and a 2.2-megapixel camera (ISO 12800) on the front with full HD video recording feature.
Apple iPhone 6 houses a 8-megapixel iSight camera with 1.5µ pixels, f/2.2 aperture, True-Tone flash, hybrid IR filter, five-element lens, sapphire crystal lens cover and a 1.2-megapixel FaceTime camera with f/2.2 aperture.
Samsung Galaxy Alpha is no less of a competitor; it comes packed with 12.0-megapixel camera (with LED flash, 4K @ 30 fps video recording ability, HDR, Selective Focus and more), 2.1-megapixel snapper on the front.
[Note: More mega-pixel count in the camera does not guarantee a good quality photograph. It all depends on the type of the lens, size and aperture.]
Price:
In this segment, there is no points for guessing. Apple iPhone 6 is most expensive among the devices due to its premium hardware. The 16GB model comes with a price tag of ₹53,500, whereas the 64GB and 128GB models cost ₹62,500 and ₹71,500.
Sony Xperia Z3 Compact is second most expensive device with the price tag of ₹44,990. On the other hand, Samsung Galaxy Alpha's price hovers around ₹39,700 and Nokia Lumia 930, priced ₹38,649, is the least expensive device among the competitors.
[Also read: Motorola Moto G (2014) vs. Nokia Lumia 730 vs. Galaxy Grand Prime vs. LG L Bello: Specifications Comparison]
[Note: Samsung, Nokia and Sony smartphones can be bought for lesser prices at online stores and upon bargaining at local brick-and-mortar stores].
Key specifications of Samsung Galaxy Alpha, Apple iPhone 6, Nokia Lumia 930 and Sony Xperia Z3 Compact:
| | | | | |
| --- | --- | --- | --- | --- |
| Models | Samsung Galaxy Alpha | Apple iPhone 6 | Nokia Lumia 930 | Sony Xperia Z3 Compact |
| Display | 4.7-inch super AMOLED HD screen with 1280x720p resolutionsPixel density: 312 ppi (pixels per inch) | 4.7-inch LED-backlit IPS screen with Retina HD (aka full HD) with 1334 x 750p resolutionPixel density: 326 ppi (pixels per inch)Add-ons:- Fingerprint-resistant oleophobic coating on front- Dual-domain pixels for wider viewing angles | 5.0-inch full HD (1920x1080p) ClearBlack OLED screen with Corning Gorilla 3 shieldPixel density: 441 ppi | 4.6-inch HD (1280x720p) screen with TRILUMINOS and X-Reality display technologyPixel density: 319 ppi |
| OS | Android v4.4.4 KitKat with TouchWiz UI [most likely to get Android 5.0 Lollipop OS update] | iOS v8.0 (wider availability of the new OS version to other Apple devices from 17 September) | Windows Phone v8.1 | Android v4.4 KitKat [Android 5.0 Lollipop OS update confirmed ] |
| Processor | Exynos Octa-core processor (1.8GHz quad-core + 1.3GHz quad-core) with Mali-T628 MP6 GPU[In India, it comes with Exynos chipset]For select markets- smartphone is expected to houseSnapdragon quad-core processor with 2.5 GHz CPU speed | 20-nanometer class based second generation 64-bit A8 chipset which is 25-percent faster (50-percent faster graphics too) than the A7 in iPhone 5S.It is aptly supported by second generation, M8 motion co-processor | 2.2GHz Qualcomm Snapdragon 800 series quad-core CPU | 2.5GHz Qualcomm Snapdragon quad-core processor with Adreno 330 GPU |
| RAM | 2GB | 1GB | 2GB | 2GB |
| Storage Capacity | 32GB (no micro SD card slot) | 16GB/64GB/128GB | 32GB (not expandable) | 16GB, expandable up to 128GB |
| Camera | Main: 12.0-megapixel camera with LED flash, 4K @ 30 fps video recording ability, HDR, Selective Focus and moreFront: 2.1-megapixel camera | Main: New 8-megapixel iSight camera with 1.5µ pixels, f/2.2 aperture, True-Tone flash, hybrid IR filter, five-element lens, sapphire crystal lens cover,Front: 1.2-megapixel FaceTime camera with f/2.2 aperture, auto-HDR,720p HD video recording | Main: 20.0-megapixel PureView camera with 2X zoom, Zeiss optics, ½.5-inch sensor, dual-LED flash, 26 mm camera focal-lengthFront: 1.2-megapixel camera with f/2.4 aperture | Main: 20.7 megapixel camera with auto-focus, Exmor RS sensor, pulsed LED flash, full HD resolution video recordingFront: 2.2-megapixel camera (ISO 12800) |
| Battery | 1860 mAh; (with ultra power saving mode) | Built-in re-chargeable Lithium-ion battery (non-removable).Talk time: up to 14 hours (3G)Standby time: close to 10 days (250 hours) | BV-5QW model: 2450 mAh (non-removable);Talk time: up to 11.5 hours (2G) & 15.5 hours (3G)Standby mode: close to 18 days | 2600 mAh;Talk time: up to 14 hoursStandby time: close to 920 hours |
| Network | LTE Cat.6 (300/50 Mbps download/upload ) | 3G & 4G-LTE (with new VoLTE technology for high quality voice-calling) | 3G & 4G-LTE | 2G , 3G & 4G-LTE (in select markets) |
| Add-ons | Finger-print sensor, Bluetooth v4.0 (BLE/ANT+), Wi-Fi (802.11 a/b/g/n/ac HT80, MIMO 2x 2), NFC, USB v2.0, Download booster, quick connect, private mode | Finger-print sensor (much better Tough-ID security feature), Wi-Fi (802.11a/b/g/n/ac), Wi-Fi calling (in select markets), Bluetooth v4.0, NFC. GPS/GLONASS | Nano-SIM, Bluetooth v4.0 (with A2DP ad more), Wi-Fi (802.11 a/b/g/n/ac), NFC, micro-USB, built-in Qi-standard wire-less charging | IPX5/IPX8 water and (IP6X)dust resistant certifications, PlayStation certified (PS4 Remote Play), Sony 3D surround sound technology (VPT), Bluetooth v4.0, NFC, Wi-Fi , A-GPS, GLONASS, micro-USB (High speed v2.0), microSD card slot |
| Dimensions | 132.4 x 65.5 x 6.7 mm | 138.1 x 67.0 x 6.9 mm | 137.0 x 71.0 x 9.8 mm | 127.3 x 64.9 x 8.64 mm |
| Weight | 115 g | 129 g | 167 g | 129 g |
| Colours | Frosted Gold, Charcoal Black and Dazzling White | Gold, Silver and Space-Grey | Bright Orange, Black and White | White, Black, Green and Orange |
| Price | ₹39,700/- | 16GB: 53,500;64GB:₹62,500;128GB:₹71,500; | ₹38,649/- | ₹44,990/- |