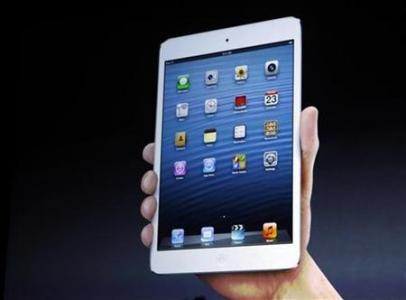 Apple Inc on Tuesday unveiled a scaled-down version of its best selling iPad to the technology world, marking its first foray into the smaller-tablet segment.
Prior to the launch of iPad Mini, the Cupertino firm caused rival companies to quake in their boots at the prospects of another killer creation in the form of a sized down slate. Noteworthy rivals like Amazon and Google - the makers of Kindle Fire and Nexus 7, respectively - are now worrying about Apple's new entry and are viewing it as a threat to their popular 7-inchers.
Amazon saw huge success with the launch of its Kindle series in 2011 and the device was posed to be a strong contender to the larger iPad. The inception of the first generation Kindle Fire culminated in breathtaking sales of an estimated 4.7 million units in the fourth quarter of 2011, International Data Corporation said.
The HD version of Kindle Fire, launched in September, also took the budget tablet market by storm. Amazon declared the device to be its best-selling product, but actual sales figures are yet to validate the company's claim.
With much excitement twirling around the launch of Apple's latest iPad mini, owners of the Kindle Fire HD tablets can probably get a whiff of its current success and are probably torn between buying the new tablet or stick to their current device. Comsumers who are yet to own either tablets may also find themselves in two minds over purchasing.
To find out how Apple's newly launched iPad mini stacks against Amazon's second generation Kindle Fire HD, here's a breakdown of the specs and features between the two devices:
Display/ Form
iPad mini sports a 7.9-inch LED-backlit IPS LCD capacitive touchscreen display with 1,024x768 pixel resolution and pixel density of 162 ppi. According to CNET, the screen resolution lacks the crystal clarity on the larger iPad models.
Kindle Fire HD, on the other hand, sports a 7-inch IPS TFT capacitive touchscreen display with pixel resolution of 1280x800 with 216.
iPad mini looks sleeker, measuring 7.9 x 5.3 x 0.28 inches and weighing 308 grams. The Amazon device is relatively on the heavier side, weighing 395 grams and measuring 7.4 x 4.7 x 0.45 inches.
Processor
iPad mini operates on a dual-core 1 GHz Cortex-A9 processor and runs on its Apple's own software, iOS 6. Kindle Fire HD also runs on a dual-core processor clocked at 1.2. Both tablets have to be tested in house to determine the performance levels.
The Kindle Fire HD software largely directs its users to purchase products from the Amazon website. The company is presently grappling with an issue of third-party sellers offering goods at unauthorized low prices.
Memory
iPad mini has 512 MB RAM, comes in 16, 32 or 64GB models and lacks a memory card slot for further upgrade.
On the other hand, Kindle Fire HD also lacks memory card slot, has higher on board 1GB RAM on board and comes in either 16 or 32GB versions.
Camera
iPad mini stood out with its a 5-megapixel camera with 1080p, 2592x1944 pixel resolution and an array of features like autofocus, geo-tagging, touch focus and face detection. There's also a fron-facing 1.2-megapixel camera which can capture video at 720p.
Kindle Fire HD scores low in the department with its 1.3-megapixel camera with 1280x1024 pixels and lack of a secondary camera.
Battery
Apple claims that the "16.3-watt-hour" battery in iPad mini will give 10 hours of battery life. Kindle Fire HD give around five hours of video battery life.
Price
Kindle Fire HD, which is looking for a release in India, is expected to fall in the ₹10,000 to ₹20,000 range.
iPad mini was unveiled with a $329 (around ₹17,000) price tag. Details on its pricing and availability in India remain unknown.