Renowned security researcher Adam Donenfeld had recently tweeted regarding the discovery of eight new exploits that were patched up in iOS 10.3.2. It is now clear that these tweets may have sparked off rumours that the researcher was planning to release the highly-anticipated iOS 10.3.1 jailbreak.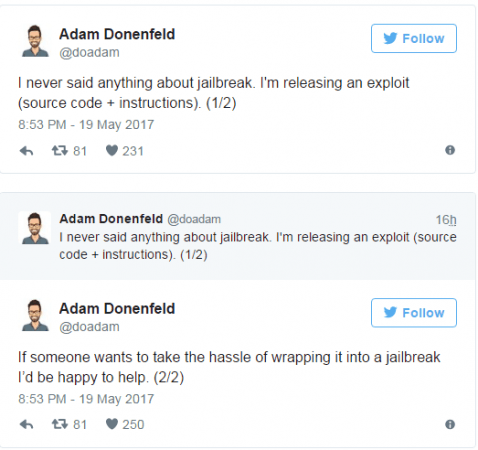 Following the widespread speculation of an imminent iOS 10.3.1 jailbreak release, Donenfeld has now clarified that he has no plans to release the jailbreak and instead he would love to support the jailbreak community with the release of a new exploit that would facilitate the development of the jailbreak for iOS 10.3.1 or lower.
Donenfeld has earlier mentioned that he would reveal all eight kernel-exploits in the forthcoming jailbreak convention aka HITB GSEC security conference in Singapore while also recommending prospective jailbreakers to save their SHSH blobs. This particular advice seems to have triggered rumours surrounding the imminent release of iOS 10.3.1 jailbreak.
With the HITB conference set to kick off between 21 and 25 August, the jailbreak release will have to wait much longer after the exploits are revealed at the event. The details of the source code linked with the exploit are unlikely to be publicised at the conference, which will further delay the development and release of upcoming jailbreaks.
Pangu Team still seems to be the best bet for releasing the next jailbreak, as they have already demoed a functional jailbreak for iOS 10.3.1 at the recent tech conference. However, the Chinese jailbreak developer team is yet to officially confirm the release details for the forthcoming jailbreak.
Prospective jaibreakers are advised to skip the iOS 10.3.2 upgrade to safeguard any chances of jailbreaking their device in the near future. Those who have already upgraded to iOS 10.3.2 may try downgrading their device to iOS 10.3.1 as it is still being signed by Apple.