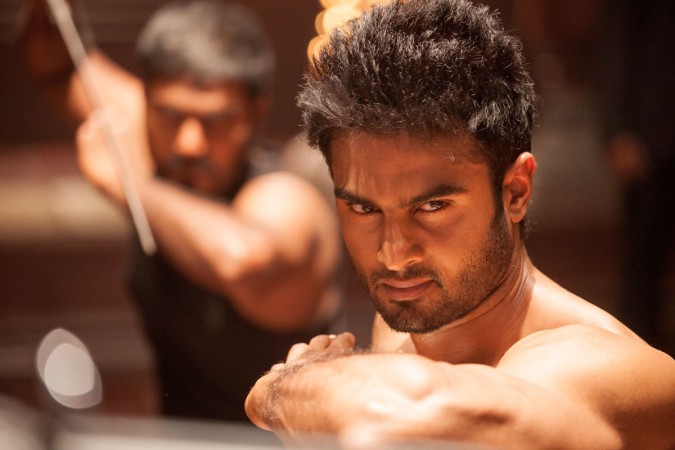 Sudheer Babu, a former badminton player and brother-in-law of Telugu superstar Mahesh Babu, is making his Bollywood debut with "Baaghi," which also features Tiger Shroff and Shraddha Kapoor in the lead roles.
Before the release of the film "Baaghi," Sudheer spoke to International Business Times India about his first Bollywood project "Baaghi," his co-stars and how he prepared for his role.
Here are the edited excerpts from the interview:
International Business Times: How did you bag your first Bollywood project?
Sudheer: They have seen some of my videos on YouTube, which I had uploaded and after watching that they approached me. My first film (Telugu film) was a love story, but I have done some action sequences because I am a big fan of Jackie Chan and his action films. So with this inspiration, I have done some action scenes in the love story and uploaded that videos on YouTube.
IBT: "Baaghi" is your first Bollywood film, how was your experience and what challenges did you face working in a Hindi film?
Sudheer: I have done a few Telugu films, but the only difference here is the language which I am not very fluent in. So the only tough part was the language. However, it was not a big hurdle, as I used to get my lines before going for the shoot. So all I had to do was by-heart them and deliver it on-screen and I had got enough time to prepare for the scenes.
Another thing was stunts because this is a film with high voltage action scenes, so stunts were given high priority and a lot of preparation has gone into the film. They trained me and Tiger for a few months.
IBT: So how much time did you take to prepare for his role and learn the action scenes?
Sudheer: Performance wise I have not taken much time, but for stunt scenes, it took us around a couple of months to get there and that too because it wasn't very tough because we are already fit.
IBT: You have been touted as the "Biggest Villain of 2016." How do you feel about it?
Sudheer: It feels great that even before the release people are talking about it. So feels great and hopefully I won't disappoint them.
IBT: Did the negative role just come along or was it a conscious decision to do something like it?
Sudheer: For me, I have never taken a conscious call to do a negative or lead role, I never tried doing that. All I look at it is there any scope for me to perform well, that is why I think in this storyline there is a lot of scope for me to perform as a villain.
IBT: Who inspired you to take this role? Who is your favourite villain in Bollywood?
Sudheer: Nobody inspired me to take this role, to be honest. For me, I felt like this is slightly different from the other roles I have done. I always prefer to do some different roles and it should not be like that this role I have already done them so there is no eagerness to do this role. A role should be such that will scare you and make you think how will you do this and this particular villain role makes me think like that.
Favourite Bollywood villain are several and it is tough to pick one. But if I have to pick one then it will be Prakash Raj because his performance is brilliant.
IBT: How was it working with Tiger Shroff and Shraddha Kapoor?
Sudheer: Tiger and Shraddha are very down to earth people. They are really hard working and at this young age they are focused and they know what they want. Tiger, in fact, is a good and hard worker and always does something related to the film. Shraddha is also very energetic and a keen learner. She is a very good and versatile actor who can do a film like "Aashiqui 2" and then "Baaghi," which is very different from the former film. She has done a different kind of role and she is able to carry it, which is why she is the kind of an actress who can do any role.
IBT: You too have done some action scenes in the movie, how was it shooting that scene with Tiger?
Sudheer: It was not easy to match up with him. He is a gymnast from his childhood, so fights and dance come naturally to him. For me, it was like I have to put in extra effort to match up to him to look as strong as him. But we have a very good communication and I also know what is he is good at and what are his strength, so we worked on those.
IBT: The South Indian film industry has appreciated your role in "Baaghi," what do you have to say about that?
Sudheer: I am very happy but have to say this also that before the release of the trailer there was a slight negativity and a few people from the industry who also said "why this guy is going to Bollywood when he is doing good here. A lot of people have gone to Bollywood but none could make a mark." So I could sense the feeling, but after the release of the trailer they have seen the effort I have put in and they are happy to see that. They are very proud that one of their colleagues from the south is working in a very big film and in a very big production house.
IBT: Actors from the South Indian film industry have failed to woo Hindi audiences; do you think you will be able to change the trend?
Sudheer: I am going to make a conscious effort to change that trend. I would like to know why they were not able to make a mark over here. There is nothing wrong with the skills they have, the scripts might have gone wrong over there. And also, in Bollywood, there are a lot of audience who like more good figure actor, whereas down south there are only a few actors who work on their body. It's not that they cannot get it, but the audience never required that over there. I think they fail over there also and I will hopefully change the trend.
IBT: Upcoming Bollywood and Telugu projects
Sudheer: I haven't planned much, but there is one bilingual project I am working on that is the biopic on ace badminton player Pullela Gopichand. His life has been an inspiration to a lot of people like me, so I want to make a film on him.
There is also a Telugu film I am working on, which is based on photography. It is a funny superstitious movie, so I am working on that project now.
IBT: So who would you like to cast in the female lead role in Pullela Gopichand's biopic?
Sudheer: It's not about star cast over here because Pullela Gopichand's wife is a badminton player, so it is important to take someone who is skilled as a badminton player. If you see "Bhaag Milkha Bhaag," the biggest challenge for Farhan Akhtar was to look like an athlete, but badminton is different, skills don't come overnight, so probably I would like to pick someone who knows how to play badminton. Like Deepika Padukone, she is a very good badminton player, but it also depends on when you are casting such a huge star in the film there should be enough footage for her because there will be people who will like to come and watch her and in case she gets very less screen space they would be disappointed.
Still we are thinking about the star cast, as scripting is still going on.