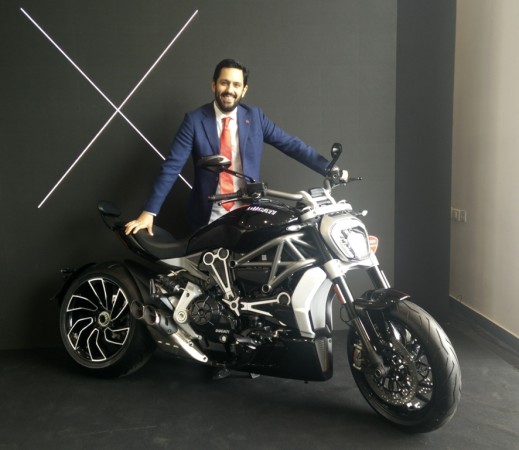 Italian motorcycle manufacturer Ducati, which launched its first cruiser model, the XDiavel, in India this week, is betting big on the Indian market. On the sidelines of the launch in Bengaluru on Wednesday, Ravi Avalur, managing director, Ducati India talks about the expansion plans of the company, dealerships and the growth, in an exclusive interaction with International Business Times, India.
Excerpts:
IBTimes: It's been a little over a year since you started operations in India. How do you see the market now, and how has the response been so far?
Ravi Avalur: The market has grown at 15 percent this year and we have grown much faster. It is because of our product range and the dealer network expansion.
IBTimes: Who do you think are your rivals in India? What is Ducati's USP?
Ravi Avalur: I would say the market has many players. But we offer a unique combination of sport-inspired motorcycles. I think there is no other sport-bike inspired manufacturer. We are unique in that way and that is our strength. Of course, we have competitors, but our offering is unique.
IBTimes: Coming to the southern parts of India, you already have a dealership in Bengaluru. Are you looking at expanding presence to other states too?
Ravi Avalur: We are definitely focusing on the other areas as well. The first step was to have a key hub in South India, and that is Bengaluru. Definitely, our plans for expansion will include Chennai and Hyderabad. Kochi will be operational by the end of this year. We will be present in every southern state.
IBTimes: Can you elaborate on the expansion plans of Ducati in India?
Ravi Avalur: Our intention is dealer-network expansion. We have plans for six dealerships this year in India. We already have dealerships in Mumbai, Delhi, Bengaluru, Pune and Ahmedabad, and we are going to open our next dealership in Kochi by the end of this year. We expect to expand to at least three more dealers by the end of 2017.
We have activated a Desmo Owners Club, which is open to anyone, who has passion for Ducati. We already have our first club in Mumbai and are close to finalising a club in Bengaluru and Pune. Ducati has also started Ducati Ride Experience, a rider training centre. We already have trained instructors and will start running basic and intermediate courses at our key dealerships like Bengaluru shortly. Going forward, we are kick-starting road shows, typically for tier-II cities, where demand exists.
IBTimes: Is Ducati Scrambler Sixty2 on the cards for India?
Ravi Avalur: Not in our current plant for India. We are happy to address the market in India with our current Scrambler and for now, we will be focusing on that.
IBTimes: Ducati forayed into the cruiser segment in the country with the XDiavel. Can we expect more in the same segment?
Ravi Avalur: I cannot comment on our future product launches at the moment. We will be talking about our upcoming products at the EICMA 2016.