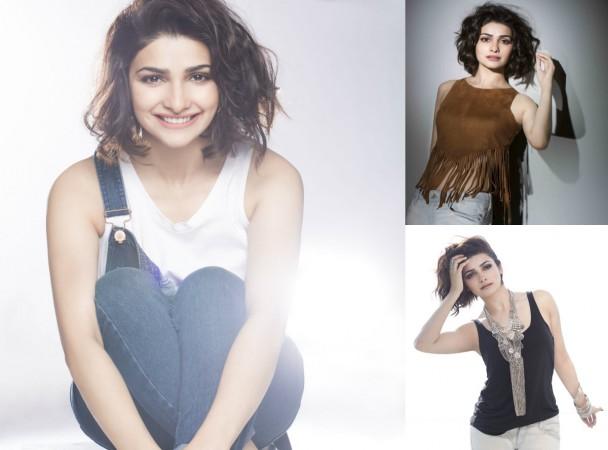 Prachi Desai is one of the few actors who started a career in television and made it big on the 70mm screen. She started her movie career with Rock On and now the actress believes that life has come a full circle with Rock On 2.
In an exclusive conversation with International Business Times India, Prachi opens up about how Rock On changed her life, upcoming film Rock On 2 and her co-star Shraddha Kapoor.
Here are the edited excerpts from the interview:
International Business Times: Rock On changed your life. Now what do you expect from Rock On 2?
Prachi: I think life seems to have come a full circle because eight years later I am doing a sequel to my debut film. Rock On definitely changed my career path and in a lot of ways it actually even changed my life. I think with Rock On 2, the role has got little more matured, even more than the earlier one which is why I think this was one of the biggest challenges for me because the first film was a bit strange because the role I played – being a 19-year-old and playing the role of Farhan Akhtar's wife – was very unconventional. This time around it was very surreal and beginning to live once again the same role. Actually, in my head I am trying to figure out what a person in her situation would be going through, would be feeling like. In a lot of many ways, it's a more challenging role I have played so far and way more matured than my previous roles.
IBT: What new can viewers expect from your role in Rock On 2?
Prachi: This time around the role is definitely way stronger. Unlike Rock On, in this movie my character has taken charge of everything around and she is kind of the driving force for herself and for the people in her life.
IBT: Shraddha Kapoor is the new addition to the sequel. Has her presence made you insecure about being sidelined?

Prachi: Well, there were four boys, to begin with, and now also there are four boys, so if there is no insecurity among them, then why should there be any insecurity between me and Shraddha. Actually, there is no room for insecurity around here. You know we were familiar with each other Me, Farhan, Purab and Arjun have worked together in Rock On, so this time we actually welcomed Shraddha and Shashank Aroa with open arms. We gave them a warm welcome because this is what usually happens when there are new people in the group and others are already familiar with each other, so you try your best to make them feel at home.

Talking about Shraddha, I am not going to reveal whether we have scenes together or not, but as far as the songs are considered I think they are beautiful and they relevant to this film because they are way more mature than the first album. Quite a track from the film are tough to sing, but Shraddha has done a beautiful job.
IBT: In-between Rock On and Rock On 2, you hardly had any hits. Do you feel the pressure that other actresses who started with you are doing better?
Prachi: I didn't come into this business to compete with anyone, I came here because I am passionate about acting. I never imagined that I will get my first break at 17 and at 19 I will do my first movie. Nothing was ever planned. The way I see is I am a self-made person, I came here and done work on my terms and condition without any big support. Unlike other people, I have a godfather to help me or a producer backing me or anybody around, so I have done all of this alone. I know where I come from and when I look back, I feel proud of myself because I don't belong to a filmi family and I have worked hard to come here.
IBT: Do you think actresses have a big role to play in male-centric movies like Rock On and others?
Prachi: I think every film around here is different nowadays. It is very interesting to see different genres and different kind of films. There are so many female-centric films also around. As far as Rock On is concerned, it is a journey and a story about the characters you saw in the first part. We are kind of taking that journey ahead with the second part, so I won't say that it is a one-man story or a one woman's story. But it is nice to see nowadays that are way more much more female-centric films being made as opposed to before. Unlike before, now women are soldering films these days and there are also a few films in which you will see both the actors solder to solder, so yes, this is a better phase.
IBT: Why is Bollywood not promoting female musicians/Rock bands like Hollywood and Western film industries?
Prachi: I have no idea why. I think this is another good time to bring alive those kinds of stories and those kinds of scripts. I understand that until this point in time, there were different kind of genres and movies that were being made and were accepted by audiences, but at this point, people are accepting different kinds of movies and they could be vastly different from others. So it is high time that we have a film like that, it is like better late than never and again, why should boys have all the fun!
IBT: We have seen Prachi in mostly two-actress movies. Is there any chance that the audience will see you in a solo lead role?
Prachi: Well, the day I get a great role I will definitely do it. That is the kind of role I have actually been looking for. In the past, there have been many times when I got a good role, but unfortunately, things didn't materialise for some or the other reasons. I am keen on doing such roles and there is no reason why would say no.
IBT: Television gave you a niche as a popular actress. Do you feel like going back to the small screen?
Prachi: To be honest, never. I was too young when I did television. It was the case of too much too soon for me. I was just 17 when I played the role in the show and I had no idea what is coming to me in the future or that particular role is going to take me, but I guess as a teenager, it was about taking that chance, because if I hadn't then I really don't know where I would have been in life. It was one of those big decisions to make and I was still in my 12th grade and I took that up. Also, I really don't miss the monotony and the tiring routine of the television and I am happier in the place that I am right now. But I think it is amazing that people still remember me for the role I played years back and they still have unconditional love to give for that. So I think the kind of reach and penetration television industry has been massive.
IBT: What next after Rock On 2?
Prachi: There is nothing that I can officially announce at this point in time. I think it is going to take two or three weeks because there are a couple of things that is interesting, but it is still at an initial stage and nothing has been finalised