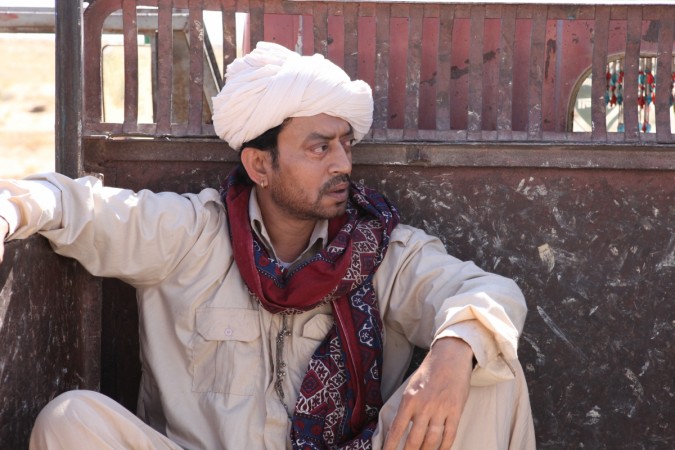 Powerhouse of talent Irrfan Khan is back on the silver screen with yet another amazing performance as Nirmal Kumar in the film "Madaari." Irrfan, who is said to be India's biggest acting export, impresses critics in India and in Hollywood with each of his movies.
In an exclusive interview with International Business Times India, Irrfan opened up about his role in the film "Madaari," his experience working with the director Nishikanth Kamat, and what he thinks of Deepika Padukone and Priyanka Chopra's Hollywood debut.
Here are the edited excerpts from the interview –
International Business Times: Tell us about your role as Nirmal Kumar in "Madaari" and how different is it from your others films?
Irrfan: In this movie, Nirmal does not have very peculiar characteristics. He is just an ordinary man, but during the story, how he discovers extraordinary powers inside him, an extraordinary character inside him that is the story. And film suggests that every human being has that characteristic inside where he can turn the hero.
IBT: How was working on the sets with Nishikant Kamat and Jimmy Shergill?
Irrfan: Nishikanth is one of the finest directors. Till "Mumbai Meri Jaan" he made films for the niche audience, after that he started making for the mass so that element he has acquired and he has been very successful in that.
And it was fantastic working with Jimmy. We always enjoy when we work together.
IBT: Which is your favourite character and the most challenging character one till now?
Irrfan: There are few interesting characters in "Piku," "Talvar," "Haasil," "Maqbool," "Paan Singh Tomar" and "Yeh Saali Zindagi" which are my favourite. My role in "Life of Pi" was challenging, role in the series "In Treatment" and even portraying the character of athlete Paan Singh Tomar was quite challenging.
IBT: You started your career as a character actor and it's been a long journey for you to play the lead role in commercial cinema. Was there any time when you felt disheartened or got discouraged?
Irrfan: You always think about a certain thing which depresses you and you do get disheartened for sure, but the thing is how you overcome that and continue your work and journey.
IBT: You have worked in India as well as international cinema, is there any difference between working in Hollywood and Bollywood? If yes, what is it?
Irrfan: I think industries are all same. On one side we see the creative aspect of the industry, while on the other side there is money, so this combination is common everywhere.
IBT: Irrfan Khan is said to be India's biggest acting export right now; do you feel the pressure
Irrfan: No, I don't feel any pressure.
IBT: Hollywood is dominating Bollywood at the box office, what is your opinion on that?
Irrfan: I think we should make interesting films so that we can entertain our youth. We should make films, which are based or reflects on our lives and reflects our society.
IBT: Deepika and Priyanka have been able to make it in Hollywood, what do u have to say about that?

Irrfan: First of all, congratulations to Deepika and Priyanka both. I think they have done a great job and Hollywood is open for new talent and I think these two actresses have done a tremendous job in such a short time they have established themselves.
IBT: Any actor/actress who you think has the potential to make it big in Hollywood
Irrfan: Anybody could get a chance you never know.
IBT: Are you choosy while signing the film?
Irrfan: No, I choose films out of instinct. Even with directors and actors, it's all about instinct.
IBT: Do you consider your co-stars before signing a film?
Irrfan: Sometimes. Sometimes I go with the script.
IBT: Any other Hollywood or Bollywood projects
Irrfan: Right now I am doing "Inferno" with Tom Hanks and after that will focus on "The Songs of Scorpions," which will release next year.