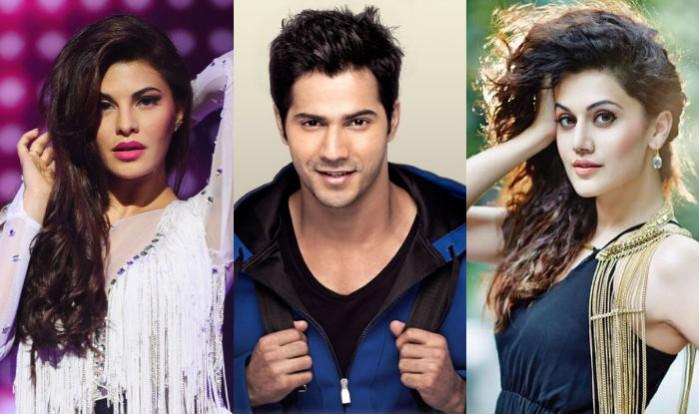 Judwaa 2 starring Varun Dhawan, Jacqueline Fernandez and Taapsee Pannu has been creating massive buzz, especially because it is the sequel of the 90s' hit Judwaa starring Salman Khan.
The trailer and songs of Judwaa 2 — helmed by the original director David Dhawan — have made the audience eagerly wait for the flick to release on September 29.
While Varun will play a double role, Taapsee will be seen in a fun and glamourous role for the first time. The Pink actress will essay the role of Samaara, vaguely inspired by Rambha's Roopa in the original film.
WHAT! Varun Dhawan changes clothes in front of Jacqueline Fernandez in her car [VIDEO]
In an exclusive interview with International Business Times, India, Taapsee opened up on working with Varun, David, rumours of her catfight with Jacqueline and more.
Here are excerpts from the interview:
International Business Times: How was it working with Varun Dhawan and the team of Judwaa 2?
Taapsee: I have known him (Varun) since Chashme Baddoor. I have also met him a couple of times after that and the good part is he has carried the same vibe from Chashme Baddoor. So, I really feel happy to see that it's not like he is creating an image: He is genuinely like that. So, he deserves the warmth and love that he is getting from the audience right now because he is actually like that.
IBT: Judwaa was an iconic movie. Do you think people will appreciate Judwaa 2 as much as the original movie?
Taapsee: Appreciations and all we will get to know after 29th of September, but I know one thing for sure: It was an iconic movie and that's why people will definitely want to come and see what we have done with it.
IBT: Was it challenging to get into the skin of Samaara, inspired by Rambha's Roopa in Judwaa?

Taapsee: The only challenging thing in the movie was to get into the shape, be glamorous and stand next to Varun and Jacqueline. That was the biggest challenge for me because people have seen them doing those glamorous roles before but haven't seen me.
And as far as my character goes, if you go on the perspective of watching Rambha, you will be really disappointed because my character is nothing like Rambha's character was in the film. Yes, I'm paired opposite Prem (the character played by Salman in Judwaa and Varun in Judwaa 2), but that's the only similarity between Rambha's character and mine.
Everything else is different. I play a college girl, I play a girl who has a mind of her own, I play a girl who is actually taking the lead in a relationship between her and Prem. She is not the poised one anymore. There is nothing same as the old one.
IBT: You have worked with David Dhawan before in Chashme Baddoor. How was filming Judwaa 2 with him?
Taapsee: It actually felt like continuous thing because I just felt like only my co-stars have changed, the set has changed, my clothes have changed. That's all. In fact, a lot of crew was the same [as Chashme Baddoor].
IBT: Your past movies including Pink and Naam Shabana were serious ones. How is it doing a fun role in Judwaa 2?
Taapsee: It is like getting a gift or a bonus after you have performed very well in your exam. For six months I enjoyed my stint as a typical Bollywood heroine who got wear the fanciest of clothes, dance on like some really good songs.
It feels like I have been rewarded with doing a typical Bollywood heroine thing after a lot of hard work.
IBT: What do you have to say about the rumours of a catfight between you and Jacqueline Fernandez?
Taapsee: That they are rumours. We genuinely didn't spend enough time to gather to have any fight whatsoever.
We only have one or two scenes together — two songs, whose locations were the same. So we ended up shooting one after the other.
Otherwise, we didn't get that much time during shoot. It was only during promotions that we are getting to spend a lot of time together.
IBT: Salman is doing a cameo in the film. Who do you prefer in Judwaa role – Salman Khan or Varun Dhawan?
Taapsee: For me, when Judwaa happened, obviously Salman was always the original Judwaa. I'm sailing in the same boat as Varun. So, I think for both me and Varun, the original Judwaa will always be Salman.
IBT: Which genre do you prefer the most: Comedy or crime drama?
Taapsee: I don't think I'm allowed as an actor to have a favourite genre. As far as my comfort goes, I do all the kinds of genre that I am comfortable with. The genre that I'm not comfortable doing, I won't do.
IBT: After the success of Pink and Naam Shabana, have you become choosier with the roles you take? Are you open to playing a supporting character?
Taapsee: I think I was always choosy with my roles. That's why I was probably slow, not taking a lot of films that were coming my way.
I was always a little fearful about choosing films because I have done a lot of films in South. I have learnt from my mistakes, which I didn't want to repeat here.
I always keep one thing in mind: I suit my roles. Whatever films I do, I should understand that it should be worth the hard-earned money of my audience.
IBT: What according to you differentiates Bollywood actresses from down South.
Taapsee: I think today just that as a Bollywood actress, you have wider options of roles to choose from. That is the only difference or advantage that we have right now.
IBT: Not all South actors have tasted success in Bollywood. What do you think the reason could be? What is your success mantra?
Taapsee: I have been using the same technique that I have used while selecting films from South.
I understood that for the Hindi or Bollywood audience, you can only leave an impact if you do those roles that have impact.
If you are doing a role where you are replaceable, when people don't remember you for a long time, then definitely you are in the danger zone.