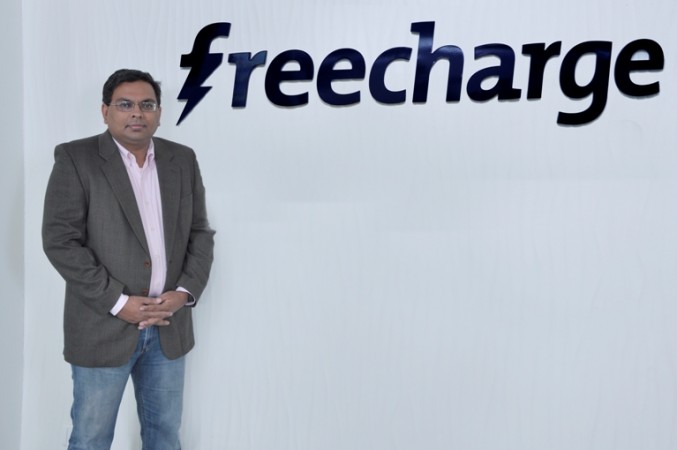 Freecharge has grown to become one of the leading mobile payment solutions in India, a country which is mainly driven by cash transactions. The company's COO, Govind Rajan, has said time and again that cash is the biggest competitor for Freecharge. The firm aims at multiplying its daily transactions by at least 7 times by the end of this year.
In order to boost its presence in the mobile payment platform, which is quite a competitive space with players such as Paytm, Mobiwik and Airtel Money, Freecharge started an IPL campaign to attract people to its platform. Through its "Lo.Do.Khatam.Karo" campaign, the company aims at digitising the payment system in India. Freecharge claims more than 25 million people use its mobile wallet and the firm manages 1 million transactions each day. The company is looking at making 7 million transactions a day by the end of 2016.
International Business Times India spoke to Rajan about the company's ongoing efforts around its campaigns and strategies to outgrow its rivals in the mobile payment sector. Here are the edited excerpts from our interview with Rajan.
International Business Times India: How is FreeCharge engaging with its audience across platforms during IPL?
Govid Rajan: FreeCharge is the on-ground partner for VIVO Indian Premier League (IPL) 2016 and on-air partner for Sony MAX. Our campaign will run throughout the VIVO IPL 2016 season (April 9 – May 27, 2016), focusing on metros and tier 1 cities. We are engaging with our consumers via an array of channels, including TVCs, digital marketing, and other activities on social platforms.
We have launched three TVCs, which are currently being shown across 29 channels. The 360-degree campaign is being leveraged on media platforms, including radio, outdoor, digital and television.
To add a touch of personalisation to the game and enhance the connection between FreeCharge and IPL, we have brought on board a unique aspect this IPL season, which is 'FreeCharge Bolt' moments.
At every match, the commentators announce two 'FreeCharge Bolt' Moments that represent the best 'fielding highlights' at every match. We are also running several contests and driving interesting IPL conversations on social platforms. Additionally, FreeCharge, for the first time, is giving away the prizes to the contest winners digitally.
IBT: What is your social media strategy for the campaign?
Rajan: Social platforms are definitely integral to our 'Lo.Do.Khatam.Karo' campaign and we have been successfully running a plethora of engaging contests across social media throughout the IPL season.
These include Predict-to-Win, opinion polls, listicles/Posts of Bolt Moment videos, post for previous day's bolt of the day winner, fielding statistics, FC Bolt Rankings, #Lo.Do.Khatam.Karo (cricketer) posts, Bolt Trivia, #ScoreKyaHoga posts, #AskGaurav and Kitne Baki Hai Dubmash. We are also leveraging the hashtag #LoDoKhatamKaro aggressively by driving engaging conversations around IPL on multiple social platforms.
IBT: What kind of ad spends is FreeCharge looking at for IPL?
Rajan: Freecharge is spending over INR 100 crores in the sponsorship, promotions and alliances to connect with the young and tech-savvy consumers.
IBT: Why IPL for a brand campaign?
Rajan: Cricket is like religion in India and over the last few years, IPL has created a niche for itself as the modern day format of cricket, connecting a large audience with its intense offering of fast-paced competition. Our decision to be the sponsor for VIVO IPL was to leverage the popularity it has among youth and cricket lovers and use the platform to garner maximum brand visibility and recall amongst our target group.
We already enjoy a significant goodwill among our users and our marketing initiatives for VIVO IPL is further helping us build brand salience and awareness and establish Freecharge as a credible, trustworthy and consumer friendly brand.
IBT: How is the response for the Lo.Do.Khatam.Karo campaign so far? A breakdown of social media traction seen on various platforms like Twitter, Facebook?
Rajan: We have received an overwhelming response to the campaign. On day one itself, more than 1,040 users participated in the campaign, they collectively generated more than 5,080 conversations and we garnered over 43 million impressions.
Our unique Twitter accounts reach was over 4.5 million on the first day and the hashtag #LoDoKhatamKaro trended PAN India for close to six hours.
We have seen a 50 percent growth in app downloads and registrations in play store since the time the campaign was launched on April 8. Also, within 2 weeks of IPL, Freecharge has gained five places in PlayStore top charts. This shows the kind of visibility the campaign has created and built brand awareness and salience.
IBT: Please share a few weekly or monthly numbers related to total visitors and transactions etc.?
Rajan: At Freecharge, we believe a great User Interface results in sticky consumers, which is a more important goal for us as we continue to build our wallet capabilities.
Ninety nine percent of our transactions take less than 10 seconds and our success rate demonstrates the level of product reliability, which results in very high loyalty. Over 70 percent of our consumers are repeat consumers. They transact on an average over five times a month, which compares very well with other mechanisms like credit cards, which are three times a month.
Also, this reflects in our funnel conversion with over two-thirds of the visitors transacting, which is way ahead of its peers. Our biggest category still remains recharge transactions with 55 percent share followed by bill payments with 20 to 30 percent.
A little more than 50 percent of our traffic comes from Tier 1 cities, which comprises of a population of a million plus. Customers are actively using our wallet to pay for e-commerce, commute, travel, F&B etc.
IBT: Is Freecharge planning to offer services outside India anytime soon?
Rajan: India is a dynamic market and for now, we are focused on making consumers in India move from cash to digital payments by making our wallet ubiquitous.
IBT: What are the primary targets for Freecharge this year?
Rajan: Since our wallet launch, we have seen a massive growth primarily driven by high user retention and loyalty. We believe that now we need to create the same experience across many used cases. In the coming months, we are focused on addressing the needs of consumers and merchants in this country – offline and online.
All our efforts are aligned to further strengthen awareness and salience around the brand, establish Freecharge as the no.1 player in the payments ecosystem and finally work towards making a shift in consumer habit from cash to digital payments.
We are currently doing 1 million transactions a day and plan to do 7 million transactions a day by 2016-end. With this, we also plan to add 5 million merchants on board by the end of this fiscal.
IBT: Where does Freecharge stand in terms of ranking against rivals such as Paytm, Mobiwik, and Airtel Money?
Rajan: The digital payments landscape in India has witnessed unprecedented growth largely driven by increased smartphone penetration and roll-out of 3G and 4G services at extremely affordable prices.
We believe cash is our biggest enemy. India remains a cash-led country in transactions and the task that digital wallets have are building acceptance across many used cases.