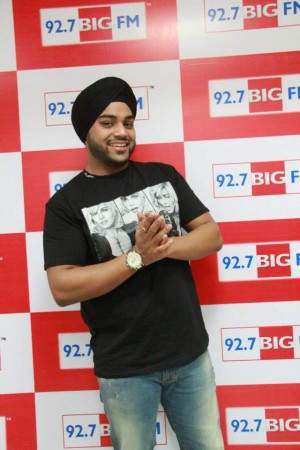 "Saturday Saturday" singer Indeep Bakshi is on cloud nine with "Humpty Sharma Ki Dulhaniya" (HSKD).
The party song "Saturday Saturday" from Varun Dhawan and Alia Bhatt starrer "HSKD" has been gaining popularity. Within days of its release on YouTube, the song went viral and has been viewed over 1 million times till now.
The song is originally a Punjabi song by Bakshi but was picked by Karan Johar, the co-producer of the film.
During an exclusive interview with IBTimes India, Bakshi spoke about his experience while working for his first Bollywood song.
Tell us how you set foot into the music industry: It was my friend's birthday so we were all partying, suddenly I got this idea of composing a song for her and then there was no looking back.
What made you choose music over architecture? From childhood I was into music and it's my passion, but since architecture is my family business I thought of doing it. But then I decided that I should follow my passion for music, because I wanted to focus on one thing.
Did you take any lessons in singing? Yes I did learn music from my guruji Ankit Thripati after I composed the song 'Saturday Saturday'.
Tell us how you felt when you faced the camera for the first time: Initially I was nervous but then I realized that I would have to face camera on a daily basis for my songs, so I got comfortable with the camera and then I started enjoying it.
How do you feel being launched by Dharma Productions in Bollywood? Obviously the feeling is amazing; it's like dream come true for me. Dharma Productions is a really big name and I feel blessed to be launched by them.
Did you initially feel lost on the set, considering Dharma Productions is known for its flamboyance? No, not really. I know my roots & have confidence on myself. I am focused towards my goals.
How did Dharma Productions choose your "Saturday Saturday" song? During a party at Shah Rukh Khan's house Mannat, Karan Johar heard my Punjabi song "Saturday Saturday" and he really liked it. Later, the production company called me to say that they want my song for their next movie "Humpty Sharma ki Dulhania".
Apart from party anthems, what other genre are you interested in? I love almost all the genre be it soft, trance music or hip-hop.
Who is your inspiration? Rhythms & Blues and all the international singers are my inspiration. I really follow and listen international music.
Who is your favourite singer? My Punjabi favourite Singer is Malkit Singh.
Your upcoming projects? My new song 2AM is about to come. It's a R&B kind of Music in a new way.