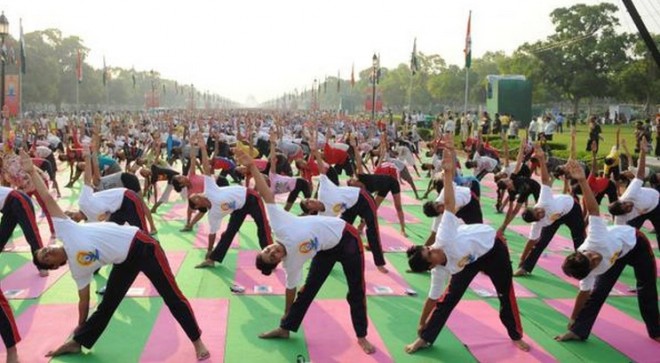 International Yoga Day LIVE: PM Modi Takes Part in Celebrations at Rajpath [VIDEO]
The first Internatational Day of Yoga is here and Delhi's Rajpath is likely to see a world record on Sunday as more than 35,000 people will perform asanas in the presence of Prime Minister Narendra Modi and other ministers.
The United Nations had declared 21 June as the International Day of Yoga after PM Modi's speech at the UN General Assembly last year, in which he called for a global day dedicated to Yoga.
Rajpath has been readied for the biggest gathering of Yoga enthusiasts that could make a world record for "the largest Yoga demonstration at a single venue".
The event is expected to be as grand as the Republic Day celebrations held in the capital, and has warranted equal security arrangements.
While it was earlier reported that Prime Minister Naraendra Modi will himself perform asanas on Yoga Day, some reports have said that he will not be performing Yoga.
Thousands of Yoga enthusiasts will perform at least 15 asanas for 35 minutes under the early morning sun.
Sunday's Yoga event will begin at 7 am, though Modi is expected to address the crowd before the Yoga session begins.
WHERE TO WATCH LIVE STREAMING
Live streaming will begin at 6 am on the official Youtube channel of the Prime Minister's Office.
The coverage will start with PM Modi's speech at Rajpath to kick off the first Yoga Day, followed by the 30-minute mass yoga session.
You can also catch the live streaming of the Yoga day event at Rajpath on Narendra Modi's official website.
Doordarshan will also provide live coverage through more than 20 HD cameras, in what is being compared to a Republic day coverage.
You can visit the Doordarshan website for more details.
You can watch Yoga Day live coverage on Doordarshan's Youtube channel here:
The PMO Youtube channel will also show live coverage of International Yoga Day events across the country.
All India Radio will also do a live coverage that you can listen to here.
International Yoga Day Across the World
More than 250 cities in 192 countries are set to join in on the First International Yoga Day on 21 June, from Times Square in New York to the Eiffel Tower in Paris.
Many of these global events will be led by the Indian consulates in the respective countries.
See How India and the World Prepared for Yoga Day
You can check the Ministry of External Affairs website here for live streaming of Yoga day across the globe.
You can follow the media coverage of International Yoga Day across various cities in the world here.
The United Nations' webcast channel is also likely to show events from around the world.