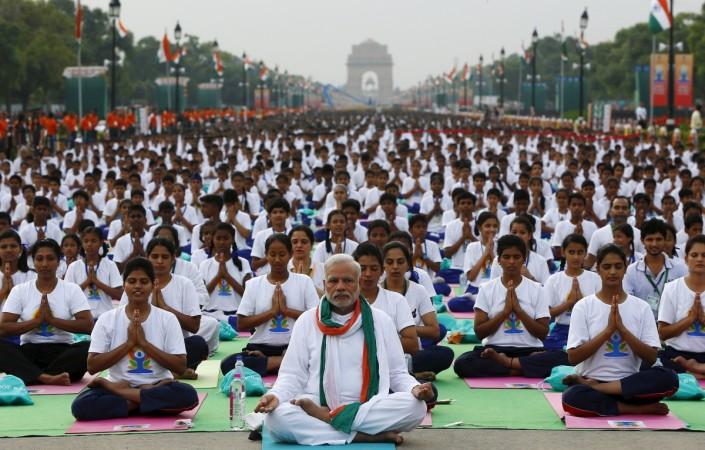 India cricket superstar Virat Kohli has urged his fans, followers and common people to take up the physical and spiritual discipline of yoga ahead of the International Yoga Day 2016, which will be observed on June 21. Kohli, currently the Indian cricket team skipper for the Test format, also mentioned that the art has helped him in becoming the fit player he is today.
It was in 2014 that the United Nations (U.N.) acted on a proposal of Indian Prime Minister Narendra Modi to keep a dedicated day for Yoga when the whole world would join in as well for the celebrations. Modi's speech in the U.N. General Assembly on Sep. 27, 2014, was the booster the international organisation needed to declare June 21 as the International Yoga Day.
While the 2015 edition of the event turned out a historic one in every possible way, plans are on by the Government of India to make the 2016 edition an even grander one.
Kohli, a well-known face in the sports circuit and an inspiration for millions, has also played his role in heralding the International Yoga Day 2016. Seen as one of the fittest players on the field in the Indian cricket team squad who is equally good in the fielding department as he is in the batting department, the 27-year-old says that participating in yoga sessions has always helped him and he practices it daily.
"I do yoga everyday. It has helped me build my potential and self-confidence," said Kohli. "So I urge you to take up the spiritual art as well and inspire yourself to push higher and build your inner and physical energy."
The Ministry of Information and Broadcasting (MIB) has also urged all TV channels and radio stations in India to promote the event and carry out the message of the benefits of yoga across all media.
"The forthcoming June 21 will be the second International Yoga Day and hence, it will hold special significance for India, particularly when the genesis of practice of Yoga is associated with our country and several initiatives have been taken by institutions, both public and private, to promote the cause," read the MIB statement.
"To take the same forward, all TV channels, FM stations & community radio stations have contributed immensely to the cause of promotion of Yoga and International Day of Yoga in the past and it is hoped that they will take all possible steps this year also to promote International Yoga Day (lYD) by carrying special features or in any other befitting manner during the period leading to the occasion."
Watch Virat Kohli's message here: