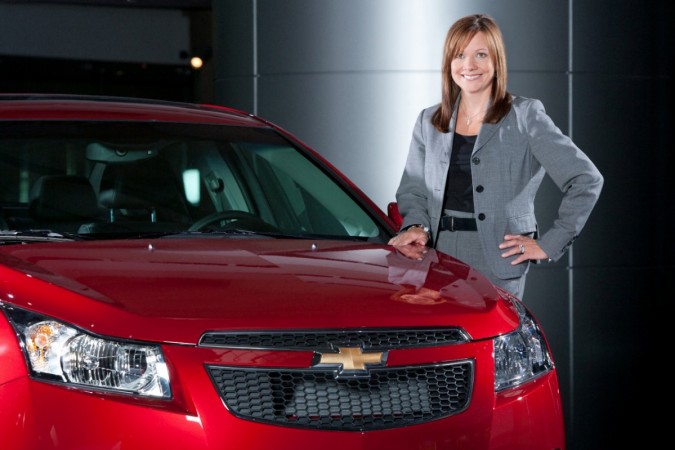 Women are outreaching men in every walk of life — studies, work and business. Women have been making a mark in every field that they lay their hands on and not surprisingly, in the world of automobile too.
While the automobile industry is viewed as an area dominated by men, women have ventured into this space too. As the world celebrate womanhood on this International Women's Day March 8, we bring you a list of women who made it big in the world of wheels and machines.
Mary Barra
Mary Barra is the first female CEO of the global automaker General Motors (GM). Barra, who began her career with GM in 1980 as a General Motors Institute (Kettering University) co-op student at the Pontiac Motor Division, was responsible for the design, engineering, programme management and quality of GM vehicles around the world.
Padmasree Warrior
Padmasree Warrior is the CEO of U.S. for NextEV, an electric vehicle company. Warrior, the former Chief Technology & Strategy Officer (CTO) of Cisco Systems, and the former CTO of Motorola Inc. was called the "Queen of the Electric Car Biz" by Fortune magazine.
Sulajja Firodia Motwani
Sulajja Firodia Motwani is the Joint Managing Director of Kinetic Motor Company Limited. She played a pivotal role in making the Kinetic Motor Company as a manufacturer, offering a complete range of two wheelers from mere moped manufacturer.
Mallika Srinivasan
Mallika Srinivasan is the Chairman and Chief Executive Officer of TAFE - Tractors and Farm Equipment Limited. Mallika established TAFE as a mass manufacturer of tractors and has led a variety of industry bodies such as the Tractor Manufacturers' Association of India, The Madras Chamber of Commerce and has held various positions in industry bodies such as the Confederation of Indian Industry, Indian Institute of Foreign Trade, etc.
Laskhmi Venu
The daughter of TVSMotor Co. Ltd chairman and managing director Venu Srinivasan and Tractors and Farm Equipment Ltd (TAFE) chairperson and chief executive Mallika Srinivasan leads the Automotive Products Division of Sundaram Clayton (TVS Group). She also holds an executive position as Director of Tafe Motors and Tractors Ltd.(Amalgamations Group).
Michelle Christensen
Michelle Christensen is the first woman to lead a design team of a supercar. Christensen, who heads the exterior design project of Honda NSX, joined the team after the company unveiled its NSX concept at the 2012 Detroit show.
Yumi Takechi
Nissan's most powerful car GT-R is manufactured at the company's Yokohoma plant in Japan. The engine of GT-R is manufactured master craftsmen, called Takumis. Yumi Takechi is part of these master craftsmen team and is expected to become a Takumi in near future, which is usually dominated by men.
Pallavi Singh
She heads the Marketing team of the American motorcycle manufacturer Harley Davidson in India. She joined the company in 2013.
Asako Suzuki
Asako Suzuki is first female Chief Operating Officer (COO) of Honda Motor Co. She is also the first female to reach to the top position at the company.