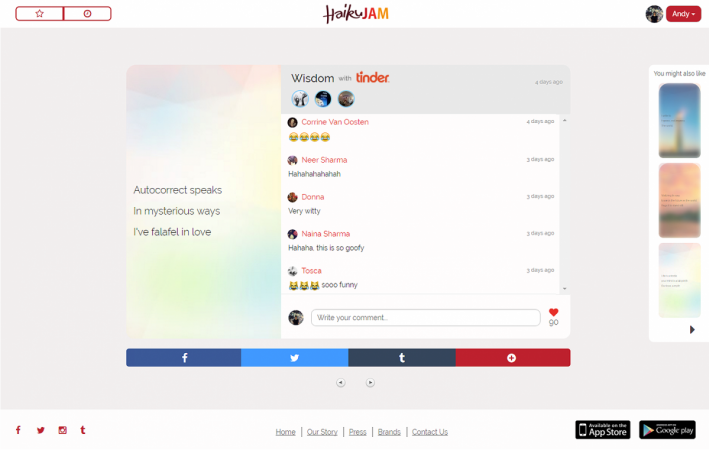 International Haiku poetry day is a special celebration for the fans of poetry as it encourages people to share their words of love, wisdom or basically anything under the sun with the rest of the world. This year especially is going to be marked by Tinder and HaikuJAM's efforts at publishing a book filled with poems by amateur Haiku writers.
Most people will be familiar with the dating app Tinder, where you choose who you want to talk to by swiping left or right. Taking their desire to bring people together to a new level, the people behind Tinder have joined hands with the London-based poetry writing app HaikuJAM to encourage people to get creative on International Haiku Poetry Day 2016.
"At Tinder, we have always worked towards facilitating meaningful connections by making it easier to meet new, like-minded people. Poetry is the language of love and this partnership is a great opportunity for us to bring together haiku lovers to express themselves in their own unique style." Taru Kapoor, head of Tinder India, said regarding the collaboration.
The best of the poems submitted for the contest will be compiled into a book and the participants will also stand a chance to win Tinder merchandise. HaikuJAM also allows people to submit images to represent words to create photo-stories.
The submissions for the contest can be seen real-time at haikujam.com/swiperight. Here are a couple of the most popular submissions: