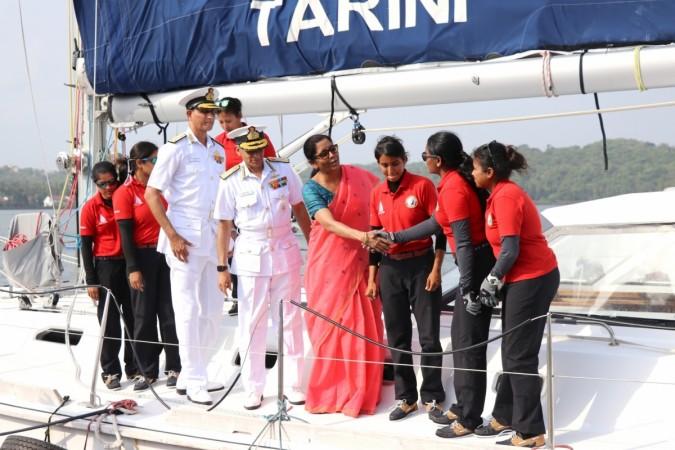 A six-member-all-women crew braved eight-foot waves, hurricanes, harsh weather conditions and spent 194 days at sea to achieve a remarkable feat. The members of the Indian Naval Sailing Vessel (INSV) Tarini became the first all-women naval crew to circumnavigate the globe. The indigenously built INSV Tarini covered 21,600 nautical miles during the trip.
The expedition named Navika Sagar Parikrama comprised six brave naval officers -- skipper Lieutenant Commander Vartika Joshi and her crew - Lieutenant Commanders Pratibha Jamwal, Swati P and Lieutenants Aishwarya Boddapati, S Vijaya Devi and Payal Gupta.
The sailing vessel of the crew reached Mandovi in Goa on Monday and the members were received by Defence Minister Nirmala Sitharaman along with Chief of Naval Staff Admiral Sunil Lamba. Sitharaman had tweeted that she was honoured to receive the members of INSV Tarini in Goa.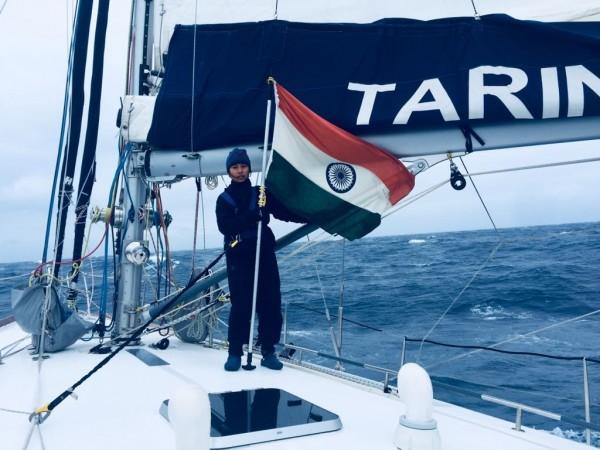 "The crew is set to arrive in Delhi on May 23 and shall be felicitated by PM Modi," Indian Navy spokesperson Capt DK Sharma was quoted as saying by the Indian Express.
Spending a total of 254 days away from home, the women covered the expedition with stopovers at four ports - Fremantle in Australia, Lyttelton in New Zealand, Cape Town in South Africa and Port Stanley in Falklands. They had started the journey on September 10, 2017.
Apart from the rough seas, the journey back home was marred by technical snags following which they had a halt at Port Louis in Mauritius for repairs. This had also led to delays in their journey as they were scheduled to return last month itself.
PM Modi appreciated the naval crew as he took to Twitter to congratulate them on the remarkable feat.
"Heartiest congratulations to Indian Navy's all-women crew of INSV Tarini for completing the Navika Sagar Parikrama, their mission to circumnavigate the globe. Welcome home. The entire nation is proud of you! #WelcomeHomeTarini."
Lt Cdr Swathi. P, Navigation officer of INSV Tarini talks about their most challenging part of the voyage and how they successfully reached Falkland Islands from New Zealand after facing multiple storms in the South Pacific at subzero temperatures.#WelcomeHomeTarini@nsitharaman pic.twitter.com/ePIyfZj6EU

— Raksha Mantri (@DefenceMinIndia) May 21, 2018
Heartiest congratulations to Indian Navy's all-women crew of INSV Tarini for completing the Navika Sagar Parikrama, their mission to circumnavigate the globe. Welcome home. The entire nation is proud of you! #WelcomeHomeTarini pic.twitter.com/z3asFZSzmc

— Narendra Modi (@narendramodi) May 21, 2018