The Indian Navy Sailing Vessel (INSV) Tarini, led by an all-woman crew, docked at a port in Cape Town in South Africa on Friday, March 2. This is the vessel's maiden voyage and Cape Town is the last leg of the journey.
In a first, INSV Tarini has an all-woman crew led by Lieutenant Commander Vartika Joshi, with members Lieutenant Commanders Pratibha Jamwal, P Swathi, and Lieutenants S Vijaya Devi, B Aishwarya and Payal Gupta. The vessel docked at Fremantle in Australia, Lyttleton in New Zealand, and Port Stanley in Falklands, before reaching Cape Town.
Speaking of the initiative, the Indian Navy said that this would empower women to attain their full potential. "The expedition titled Navika Sagar Parikrama, is in consonance with the national policy to empower women to attain their full potential. It also aims to showcase Nari Shakti on the world platform and help in transforming societal attitudes and mindset towards women in India by raising visibility of their participation in challenging environs," the navy said in a statement, according to the Press Trust of India.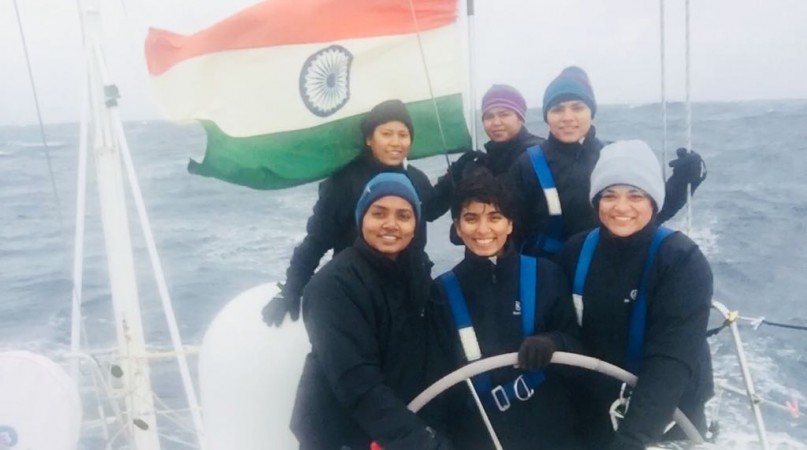 The crew members have been collecting data on marine pollution and studying meteorological, ocean and wave data throughout the expedition. Apart from that, they have also been interacting with children at various places and promoting ocean sailing.
INSV Tarini's journey has not been easy and the crew has reportedly had to deal with bad weather during navigation with rough seas and extreme temperatures. It has passed through the Indian, Pacific and Atlantic oceans until now, witnessing winds of over 60 knots and waves as high as seven metres.
Indian Navy Sailing Vessel (INSV) Tarini Fact File

The vessel is the second sailboat of the Indian Navy and was built at the Aquarius Shipyard in Goa.
The vessel is very similar to the navy's first boat INSV Mhadei, which has been in service for eight years and has travelled over 115,000 nautical miles until now.
INSV Tarini completed her sea trials on January 30, 2017.
She was commissioned to Indian Navy on February 18, 2017 as INSV Tarini, named after the Tara Tarini temple in Odisha.
The boat is 56 feet in length and has six sails, including a mainsail, genoa, stay, downwind and storm sail. The mast is about 25 metres tall.
While the journey may have been tough, training for it wasn't easy either. They were trained to deal with all kinds if crisis right from the breakdown of equipment and extreme temperatures to emergencies like a crew member sustaining an injury.
To familiarize themselves with the kind of situations they might face, the team sailed around 20,000 nautical miles onboard INSV Mhadei and Tarini to Mauritius as well.
To keep themselves occupied, the crew also was asked to take along laptops, DVDs and books and were warned that they would have to survive on dry ration as INSV Tarini does not have refrigeration facility.
The crew is said to have begun the journey with 600 litres of water, with an RO plant onboard that could provide about 30 litres of water an hour.
INSV Tarini was flagged-off from Goa by Defence Minister Nirmala Sitharaman on September 10 and has until now travelled 17,500 nautical miles. The vessel is expected to leave Cape Town on March 14, reaching Goa in April.
Related
Nuclear-capable Dhanush missile test-fired successfully: 6 facts you should know about Indian Navy's missile
After Kalvari and Khanderi, Indian Navy gets third Scorpene-class submarine Karanj