You won't need any of that scary costumes and make-up to scare the daylights out of someone this Halloween. Just let the newly added Halloween-themed filters on Instagram do the trick. The photo-sharing app has just added several Halloween-themed face filters and stickers along with a brand new feature called 'Superzoom.'
The new Halloween face filters and stickers and are already available for Android and iOS devices with Instagram version 20.0 and will be available until November 1. However, the Superzoom feature looks like it's here to stay.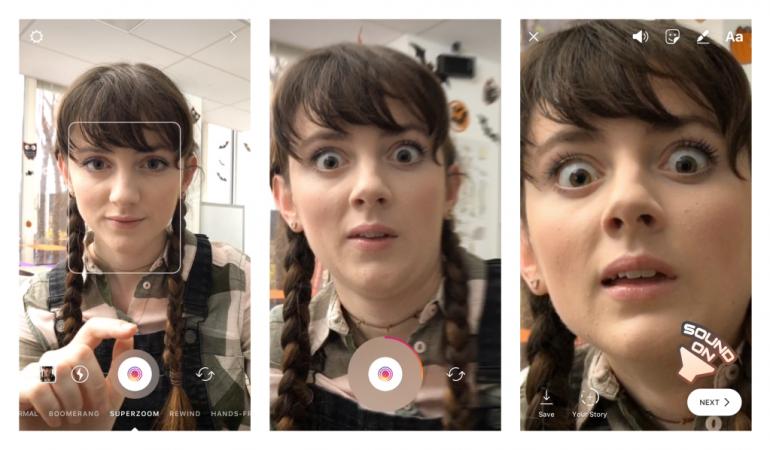 For starters, the 'Superzoom' feature is an enhanced camera feature which lets you add some fun to your video by allowing you to automatically zoom in onto your face with a dramatic music playing in the background adding to the comedic effect.
"You can make a Superzoom of anything – your selfie,your friend's goofy face or even you half-eaten sandwich," Instagram wrote in a blog post.
The feature works across objects, meaning your subject may not be a human being and this feature can be applied even to the videos you'd like to share in direct messages.

In addition to that, Instagram added the Halloween face filters which allow you to transform your face (or your friend's face) into a vampire which when you open your mouth transforms into a flying bat, or a zombie with insects coming out of your mouth. There's also a spooky looking face filter puts a scary light effect on your face and there is also a night vision-ish filter among other things.
"Whether you're planning spooky activities with friends or just hanging out at home, get into the Halloween spirit by turning yourself into a zombie, transforming from a vampire into a flying bat or getting lost in a mysterious fog," the photo-sharing company said the blog post.
Likewise, there are Halloween-themed stickers that you can add to your existing photos and videos.
How to enable the 'Superzoom' feature?
You can enable this feature by simply tapping the "Superzoom" option, located next to "Boomerang" and before "Rewind" options under the screen's record button. Once enabled, all you need to do is hit the shutter button (record button) and it automatically adds the zoom-in effect with a three-sound suspenseful music to your video clip. In case you want to take a dramatic zoom-in video of the person in front of you, you can switch to the rear camera as well.
(Note: Make sure you update the app to the latest version available)
As with the Halloween-centric filters they come pop-up from below by default when you tap on the filter icon (starry smiley face) at the extreme right of the shutter button.