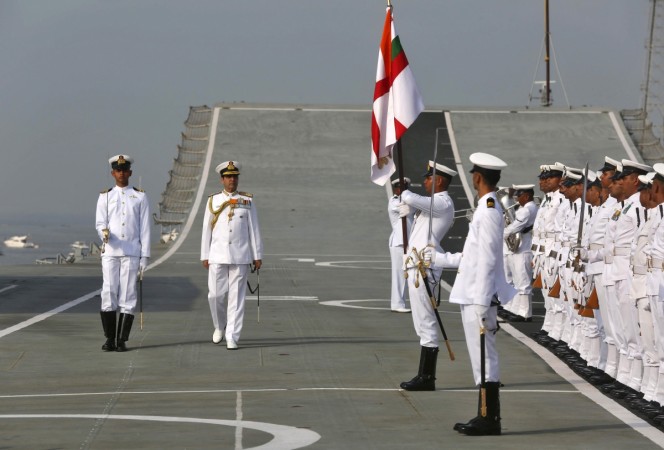 INS Vishal, Indian Navy's second indigenously built aircraft carrier, is going to be a one with nuclear propulsion and will be comparable to any of the world's most advanced naval carriers.
Indian Naval planners and designers have reportedly opted for a nuclear-powered aircraft carrier featuring the latest US launch system, electro-magnetic aircraft launch system (EMALS) technology, and it will have the capacity to carry 55 aircraft, Business Standard reported on Monday, quoting anonymous naval planners.
But given several advanced technologies, the report predicts a delay of several years, as it would take India years to assimilate it and introduce it in the carrier. The delay could push INS Vishal entering service to 2030. It was earlier set to be inducted in the 2020s.
The report, however, has not provided any confirmed news on if the construction of the new warship has begun in state-owned shipyards. The supercarrier is said to be 65,000 tonne. This would be the second of the Vikrant-class aircraft being built in India.
INS Vishal might be the first Indian carrier to feature catapult-assisted take-off, but with arrested recovery (CATOBAR). CATOBAR feature cancels the possibility of India joining hands with Russia to built the carrier. India's last carrier, INS Vikramaditya was bought from Russia.
However, the Diplomat noted that it would be a complex system and help greatly in reducing maintenance cost. Moreover, this also will allow it to carry heavier weapons payload and it will also allow the navy to have more sorties from the carrier.
The report also predicts the possibility of INS Vishal not featuring MiG-29K Fulcrum fighter jets as it features CATOBAR system. This gives possibility for Dassault Rafale naval version and McDonnell Douglas F/A 18 Hornets. India is also testing naval version of the Tejas LCA.
More information on the carrier might come in as India makes further progress in designing the vessel.